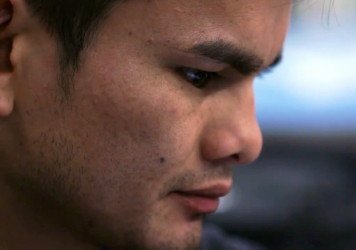 Well this is certainly a risky and an absolutely mind-blowing move by Marcos Maidana.
Call it bravery, dedication, or thirst for revenge, Maidana's cojones for not chasing a Mayweather Jr. fight must have tripled in size overnight.
In his Twitter post, Maidana wrote : "Forget about the stupid poll and Mayweather! Got tired of @AmirKingKhan. MAIDANA VS KHAN MAY 3RD OR WHENEVER. THATS THE FIGHT"
While a Mayweather Jr. is the fight of all fights, not only when it comes to the opportunity of a lifetime, but in the financial sense as well, looks like Maidana wants to fight his fight and his opponent.
Amir Khan had noticed Maidana's suggestion, and replied with the following on his own Twitter page: "This is a mans sport Maidana and ive dealt with you.. Ive never avoided anyone.. so keep it up i wish you all the best.. 2014 my year! "
Of course when a fight with Floyd is on the horizon, and that means a fat paycheck along with the opportunity to do something to salvage his mildly, nonetheless flawed career, Khan would not be interested in anything or anyone else. Khan saying that boxing is a man's sport to Maidana is confusing, as I don't think anyone reading this article would call Marcos anything but an absolute warrior with a heart of a champion. Is Khan trying to say that he is above and beyond their rematch now? Is he trying to suggest that his fight with Mayweather Jr. is a sure thing?
Maidana replied the only way one would think of: "After long discussions tonite many names were thrown but I only know who doesnt wanna fight me next: @AmirKingKhan didnt accept my challenge," following with "WE NEED TO FIGHT FOR THE PRIDE. NOT TO DETERMINE ANYONE ELSE'S OPPONENT."
Spoken like a true soldier, the kind that we rarely see in boxing nowadays, Maidana is aiming at fighting for what he believes will make him feel like a champion with sensation of content, instead of trying to find a flow that everyone is pleased with.
One of the two will likely be offered to face Mayweather Jr. in May of this year, and deciding who deserves it more is not as easy as most would have imagined.
More @ https://www.facebook.com/VitaliFightPress & http://cgboxing.blogspot.com