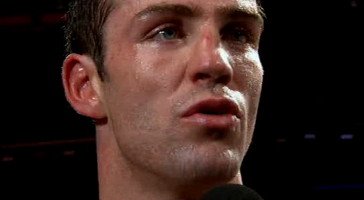 By Padraig Ivory: Irish fight fans will be hoping Matthew Macklin can deliver a performance that may warrant a temporary change of venue name to the Thomas and Mack the Knife Centre this September 15th in Las Vegas as he takes on the test of Joachim Alcine.
The man from Tipp will settle for nothing less than a win as he seeks his first victory since 2010. The aesthetic appearance of Macklin's professional record may be showing signs of rust after falling to 28-4 last St Patrick's Day however the argument exists that much of Macklin's credibility and relevance stems from his valiant performance in those losses.
Dethroning Felix Sturm on German soil was always going to be a challenge considering the uneven elevation of the terrain in favour of the local hero. The split decision verdict was proof enough to Macklin that he won the fight and with it his just place amongst the elite middleweight combatants. In his next bout Mack The Knife showed an unexpected facade to his craft as he cleverly boxed with middleweight knockout artist Sergio Maravilla Martinez before finally wilting against the supremely accurate Argentinian.
The charm of securing minor victories in defeat is unquestionably wearing thin and the 30 year old must achieve the result his performances deserve. In contrast Alcine enters having boosted his resume with the scalp of hard hitting Canadian David Lemieux.
In Olympic terms Macklin has podium finished in his last two fights however to continue his dream of lifting the middleweight crown an impressive display over the Haitian born Alcine is imperative in what may be akin to his Olympic semi final. Victory may secure another chance for the Irish pugilist to finally reach that top tier of the podium and deliver Ireland and Macklin that much craved middleweight title.