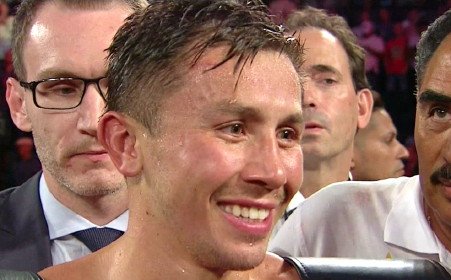 Tom Loeffler of K2 Promotions believes that former two time world title challenger Marco Antoknio Rubio will be a tough test for his fighter WBA middleweight champion Gennady Golovkin (30-0, 27 KOs) in their West Coast fight on October 18th at the StubHub Center in Carson, California.
The 34-year-old Rubio has twice fought for world titles and twice gone down to defeat to Kelly Pavlik and Julio Cesar Chavez Jr. Rubio has tried and failed in getting exposed by those two fighters.
Loeffler still thinks the aging Rubio is a good test for Golovkin despite his past failures when stepping it up against the mostly average opposition that he's built his record on.
"Marco Antonio Rubio is among the toughest fighters in boxing," Loeffler said. "This battle with Gennady should provide fireworks from the opening bell."
It's hard to say how much Rubio has left in the tank at 34. He didn't look good in losing to Chavez Jr in 2012. Rubio was too small to be fighting Chavez Jr, and it really wasn't a competitive fight. Rubio took punishment for 12 rounds in losing a decision. He puffed up Chavez Jr's face a little, but then again many of Chavez Jr's opponents have done that to him in the past.
Rubio has wins over David Lemieux, a past his prime Carlos Baldomir and Rigoberto Alvarez. But he hasn't beaten anyone that you can call a special fighter. Rubio took terrible punishment in the first 5 rounds against Lemieux before coming on to halt him in the 7th after Lemieux gassed out.
Rubio was like a punching bag for Lemieux in those first 5 rounds and it's pretty surprising that he was able to take the vicious shots that Lemieux hit him with in those rounds. In Rubio's last fight, he defeated Domenico Spada by a 10th round TKO.
Golovkin has the power and boxing skills to make this a very, very easy fight. Rubio is going to come right at Golovkin and that's not going to be good for Rubio because Golovkin won't likely gas out like Lemieux did after 5 rounds.
So what we're probably going to see is Golovkin turning Rubio into a punching bag in this fight for as long as it lasts, and I can't see Rubio being able to take more than 7-8 rounds of one-way punishment before he quits for the referee pulls the plug on the fight.
Rubio would have been eventually stopped by Lemieux if he hadn't run out of gas in their fight in 2011, but Golovkin won't tire of hitting him like Lemieux did.