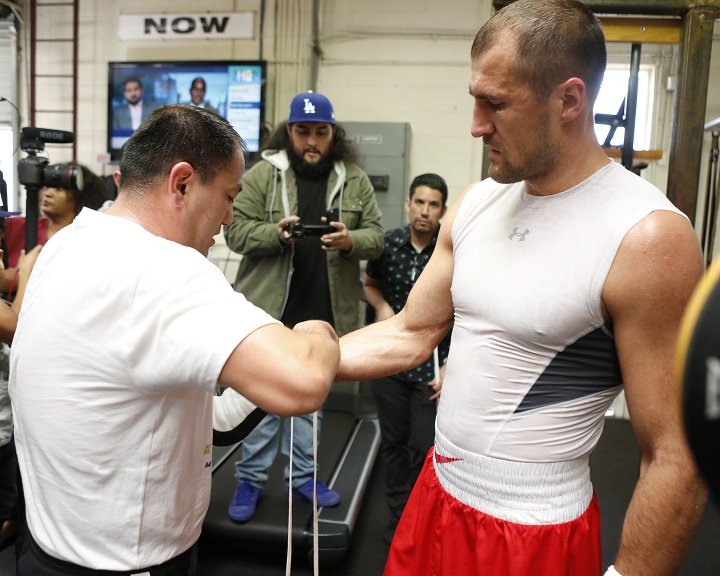 On Saturday night, Sergey "Krusher" Kovalev (30-2-1, 26 KOs) will look to regain the WBO Light Heavyweight World Title from The Theater at Madison Square Garden live on HBO World Championship Boxing against Vyacheslav "Lion Heart-Chingonskyy" Shabranskyy (19-1, 16 KOs). The scouting report for this much-anticipated battle is below: The Krusher has knockout power in both hands and can end a fight with any punch he throws. He has a sharp jab that has been effective in keeping his opponents at bay and has plenty of big-fight experience coming into this bout.
Shabranskyy is one of the division's toughest fighters. He has an aggressive style with heavy hands and a granite chin. He applies steady pressure throughout the fight and does a superb job of breaking down his opposition.
Weakness
He tends to leave openings in his guard, which could be costly considering the power of his opponent.
His aggressive style can get sloppy at times, which has resulted in him hitting the canvas in prior bouts. He will need to fine-tune his defense to avoid a shot from one of the division's biggest punchers.
Experience
Sergey has more professional bouts under his belt and has faced-off with the best in the sport. His previous 11 bouts have been world title fights.
Slava lacks the top-level opposition that Kovalev has faced; this will be the biggest fight of his career thus far.
Power
Kovalev is called the Krusher for a reason. His main strength throughout his career has been his power. He throws each punch with bad intentions and can finish the fight in an instant.
Shabranskyy is extremely heavy-handed. He has remarkable power in both hands and possesses a straight right hand that can end any fight if landed clean.
Speed
Sergey has average speed that picks up once he smells blood and goes for the finish.
Slava has average speed and really turns it up a notch when he senses that his opponent is in trouble.
Endurance
Sergey has proven in recent years that he can go a full twelve rounds, but we've also seen him lose steam in later rounds.
Shabranskyy's endurance has yet to be tested. He has gone 10 rounds just once in his career, which resulted in a decision win over former ranked contender Yunieski Gonzalez.
Accuracy
He has a pin-point accurate jab and delivers rigorous shots to the body that have ended fights in the past.
Slava's most accurate punch is his right hand. If timed correctly, it can be a game-changer in the fight.
Defense
Sergey's best defense is his offense. His power has always been a game-changer in bouts. It forces opponents to rethink their game plan.
The Ukrainian relies on offense more than anything. He likes to attack his opponents and break their will from start to finish.
Chin
Although he was stopped in his previous bout under questionable circumstances, Kovalev has proven throughout his career that his chin is more than durable.
Vyacheslav was stopped in his lone career defeat, however, he has proven that his chin is durable. He has been knocked down in numerous fights and made it back to his feet to take the win.
Style
Sergey is an offense-minded fighter who likes to walk his opponents down until he smells blood and can go for the finish.
Shabranskyy is an aggressive, in-your-face fighter who wastes little time in trying to break his opponents down and finish the fight.
Crowd Support
The Krusher should have the advantage; he spent over three years as the champion at 175 lbs. and has a crowd-pleasing style of fighting.
The Ukrainian may not have the crowd support that his opponent will have, but his aggressive style will undoubtedly earn him some new fans by the end of the fight.
Intangibles
Since suffering his only two career defeats in his pro career, The Krusher wants to get right back in the ring and get back one of his titles. Kovalev has been through the gauntlet in the light heavyweight division – he has faced nothing but the best throughout his career. He does not plan to break that trend anytime soon.
There was no title on the line when Shabranskyy originally accepted this fight. The Ukrainian is willing to take any fight to climb the ladder in this stacked division. He will attempt to impose his will and fight fire with fire when facing an opponent whose style is almost identical to his own.
The Match-Up
1. Will Sergey be mentally prepared for this fight?
2. Will Shabranskyy be able to handle Sergey's power?
3. Will Sergey get back to being the Krusher?
4. Will Shabranskyy be able to shine under the big lights?
According to Main Events' matchmaker and 2015 NABF Matchmaker of the Year, Jolene Mizzone, "This is the type of fight every fight fan should want to see because both fighters can punch! After going through over 10 different potential opponents who turned down a fight with Kovalev, I give Shabranskyy credit for taking less than one day to accept the fight. Kudos to both guys for accepting this fight. Sergey, who is coming off two losses, was still ready to fight anyone. Shabranskyy accepted this opportunity before it was sanctioned for the vacant title, when no one else was willing to get in the ring with The Krusher."
World Championship Boxing on Thanksgiving Saturday from New York – KOVALEV vs. SHABRANSKYY
HBO Sports celebrates the holiday weekend with an action-packed tripleheader, including the return of light heavyweight powerhouse Sergey Kovalev, when WORLD CHAMPIONSHIP BOXING: SERGEY KOVALEV VS. VYACHESLAV SHABRANSKYY AND SULLIVAN BARRERA VS. FELIX VALERA AND YURIORKIS GAMBOA VS. JASON SOSA is seen SATURDAY, NOV. 25 at 10:00 p.m. (ET/PT) from The Theater at Madison Square Garden in New York City. The HBO Sports team will call all the action, which will be available in HDTV, closed-captioned for the hearing-impaired and presented in Spanish on HBO Latino.
The fights will also be available on HBO NOW, HBO GO, HBO On Demand and affiliate portals.
The main event features the return of the feared Sergey Kovalev (30-2-1, 26 KOs) as he battles heavy-handed Vyacheslav Shabranskyy (19-1, 16 KOs) for a vacant light heavyweight title in a scheduled 12-round bout. Following a light heavyweight title reign that spanned more than three years and featured eight successful defenses, polished Russian knockout artist Kovalev, 34, is eager to reclaim the belts he lost in 2016 to future Hall of Famer Andre Ward.
Standing in his way is Ukraine's Shabranskyy, 30, who turned pro in 2012 after a long amateur career in his home country and has been knocking out top contenders on the way to his biggest fight to date. Both men have been active lately, this being Kovalev's tenth fight since Jan. 2014 and Shabranksyy's tenth fight since Jan. 2015. The bout marks Kovalev's 11th appearance on HBO, while Shabranskyy is making his debut on the main channel after fighting on HBO Latino in 2015.
In the co-main event, one of the top light heavyweight contenders, Sullivan Barrera (20-1, 14 KOs) of Miami via Cuba, closes out his tremendous 2017 by taking on Felix Valera (15-1, 13 KOs) of the Dominican Republic in a ten-round fight. Barrera, 35, is fresh off the biggest win of his career, a unanimous decision victory over Joe Smith Jr. in July and hopes to set himself up for another title shot in 2018 by defeating Valera. Making his U.S. debut, the hard-punching Valera, 29, seeks an upset that would insert him into the light heavyweight championship conversation.
In the opening bout, former unified featherweight champion Yuriorkis Gamboa (27-2, 17 KOs) of Miami, Florida squares off against Camden, NJ native Jason Sosa (20-2-4, 15 KOs) in a scheduled ten-round super featherweight contest. Gamboa, 35, is an accomplished veteran with success at all levels, including a gold medal at the 2004 Olympics while representing Cuba and a dominating stretch as a world champion in the pro ranks. Sosa, 29, looks to bounce back after a difficult loss to junior lightweight champion Vasyl Lomachenko and return to the championship ranks. Sosa is making his third HBO appearance, while the bout marks Gamboa's tenth fight on HBO.
Immediately following the boxing action, HBO Sports presents a half-hour special spotlighting the career of all-time great Miguel Cotto, who is slated for his professional farewell against Sadam Ali on Saturday, Dec. 2 at Madison Square Garden in a fight to be seen on HBO.
Follow HBO boxing news at hbo.com/boxing, on Facebook at facebook.com/hboboxing and on Twitter at twitter.com/hboboxing.
All HBO boxing events are presented in HDTV. HBO viewers must have access to the HBO HDTV channel to watch HBO programming in high definition.
The executive producer of HBO Sports is Rick Bernstein; producer, Thomas Odelfelt; director, Johnathan Evans.
® WORLD CHAMPIONSHIP BOXING is a registered service mark of Home Box Office, Inc.