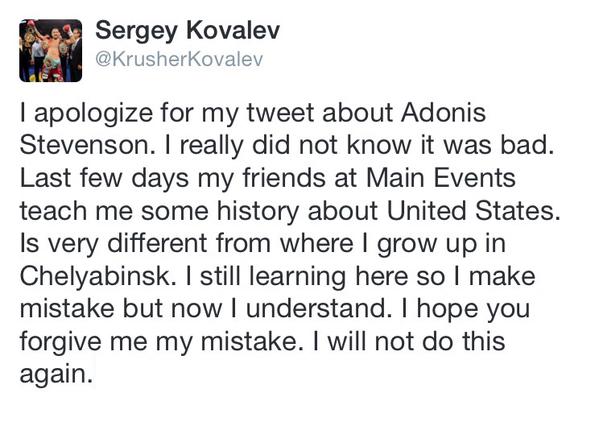 Sergey Kovalev has publicly apologised following the furor that was created from his "racist" tweet.
The controversial image of The Russian pointing to a T-shirt worn by a child, displaying a Chimpanzee in boxing gloves, above the caption "Adonis Looks Great" was widely slammed over social media, with some people calling the Russian "naïve", others out and out racist.
In a climb down that may well have been ordered by Kathy Duva and Main Event Promotions, who look after Kovalev, the WBO, WBA and IBF champion issued the following apology;
"I apologise for my tweet about Adonis Stevenson. I really did not know it was bad. In the last few days my friends at Main Events teach me some history about the United States. It is very different to where I grew up in Chelyabinsk. I'm still learning here and I understand I have made a mistake. I hope I can be forgiven this mistake and I will not do such a thing again."
I shall leave you to decide whether or not the damage is already done.
Stevenson has not replied as yet.
Twitter @Undilutedpoison