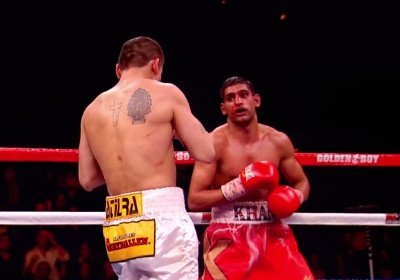 Former IBF/WBA light welterweight champion Amir Khan says he made an offer to WBO welterweight champion Manny Pacquiao's team to face him in November. Khan says his team never heard back from Pacquiao's promoter Bob Arum.
Khan was later stunned to learn that Pacquiao would be fighting little known light welterweight Chris Algieri next on November 22nd in Macao, China. Khan doesn't understand the choice of opponent, because Algieri isn't a big name and he felt that he would have been a much better choice than Algieri.
"I said I wanted to fight Manny Pacquiao," Khan said to mancunianmatters.co.uk "I offered him the fight to Pacquiao's team recently and they didn't take it. I got my team to speak to Bob Arum and we got nothing back, and they went with Algieri. He's a nobody. If Manny Pacquiao wanted to make big money in boxing he needs to fight big names."
It's pretty easy to understand why Khan wasn't selected for the fight with Pacquiao. Khan has Al Haymon as an adviser, and he's not a huge star in the United States. Khan's a big draw in the UK, but in the U.S, he's not someone that will bring in a ton of pay-per-view buys. Would a Khan-Pacquiao fight bring in more PPV revenue than Pacquiao-Algieri. There's no question that Khan would bring in more PPV buys compared to Algieri. But Khan's negatives likely made it an undo-able fight.
Arum and trainer Freddie Roach likely weren't too excited about the prospect of Pacquiao fighting Khan after seeing Khan's recent win over Luis Collazo last May. In that fight Khan did a lot of holding and grappling moves like head-locks and yanking Collazo by the back of the neck and pulling him face down towards the canvas so that he could lean on his neck. Khan got away with these grappling moves all throughout the fight, and the effect was that Collazo's offense was constantly shut down by the holding and grappling.
Would Khan have won the fight without those wrestling/MMA moves? It's possible, but we'll never know for sure because the referee working the fight Vic Drakulich failed to stop Khan from using those moves by taking points off from him. Roach said recently that he wasn't excited about having Pacquiao fight Khan because he now holds constantly, and he didn't want to see a fight with Pacquiao being held frequently by Khan.
Khan went on to say that his hand speed may have scared Pacquiao off, saying "Maybe that scares him, I don't know."
It's quite likely that the Khan question was never put to Pacquiao. The decision on who Pacquiao would be fighting in November appears to have been largely one made by Arum himself, because Roach says that he's not sure why Arum chose Algieri for Pacquiao to fight.
Roach wanted to have Pacquiao fight his fighter Ruslan Provodnikov, but Arum didn't see how he could sell a Pacquiao-Provodnikov fight given that Provondikov was coming off of a defeat to Algieri. Of course, Pacquiao has fought guys coming off of defeats in the past, and Arum had no issues with them. Pacquaio fought Joshua Clottey and Brandon Rios with them coming off of defeats. But then again, those fighters were Top Rank.