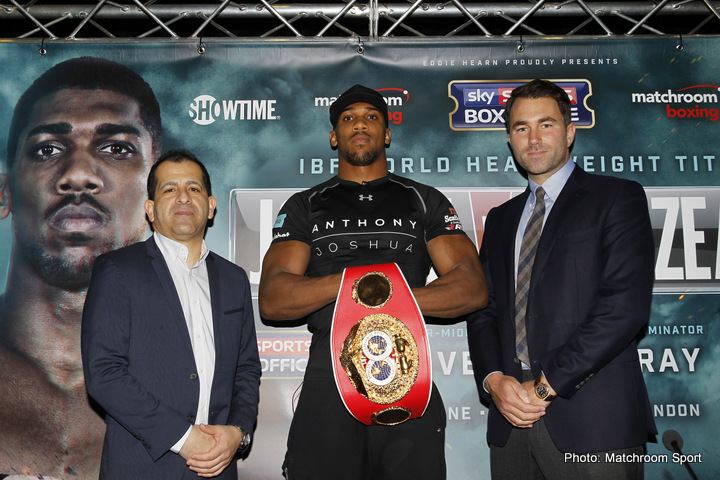 British boxing is flourishing right now, and thanks to fighters names Tyson Fury, Amir Khan, Anthony Joshua, Kell Brook, David Haye and James DeGale, fans have a number of reasons to tune in to some important and potentially explosive fight nights. World titles abound for British boxing's finest, from welterweight all the way up to heavyweight. But who of the UK's finest has the best chance when it comes to becoming an international superstar?
Let's break down the upcoming fights for the special six and see what their chances are of winning, and, most crucially, going on to bigger, world domination super-fights!
Amir Khan: next fight, May 7th (this Saturday!) Vs. Saul "Canelo" Alvarez.
Chances of winning: 4 out of 10.
If: If Khan wins, he simply becomes a global superstar and a genuine pound-for-pound operator. Khan might, just might, even lure retired great Floyd Mayweather Junior out of exile! Or maybe Khan would look at the even more impossible job of taking away Gennady Glovkin's "O?"
Tyson Fury: next fight, July 9th Vs. Wladimir Klitschko.
Chances of winning: 7 out of 10.
If: If Fury wins, and repeats his last win over Klitschko, he reaffirms his position as the #1 heavyweight on the planet. In the process, Fury would set up financial blockbusters against Deontay Wilder and Anthony Joshua. If he were to win both super-fights, Fury would solidify his unique place in heavyweight history.
Anthony Joshua: next fight, June 25th Vs. Dominic Breazeale.
Chances of winning: 9 out of 10.
If: A Joshua win will not light up the division; as fans and experts are fully expecting A.J to win in his first title defence, most likely by quick KO. But a tasty-looking brutalisation would only whet the public's appetite for that Fury showdown. And who wouldn't want to see it: The bad guy Vs. the "Role Model?"
Kell Brook: next fight, TBA – and Brook wants a big one!
Chances of winning: ??? (Until we know who the dance partner will be!)
If: It all depends on which "big name" Eddie Hearn can get for Brook. Possibly, and arguably, the best welterweight in the world today, Brook is far past needing a quality foe to test his mettle. This test might come in the form of Jesse Vargas, or it might be Timothy Bradley. Either way, if Brook can win, his star potential jumps up a few notches.
David Haye: next fight, July 21st Vs. Arnold Gjergjaj.
Chances of winning: 10 out of 10.
If: Make no mistake, this is another safe yet marketable fight for the former cruiser and heavyweight champ who has unrivalled popularity. Fact is, people love to watch Haye do his thing and they will continue to pay handsomely for the privilege. Haye wants a shot at Joshua and, who knows, he might beat Fury to the mega payday. First, though, will come that agreed fight with Shannon Briggs (if Briggs can win on the May 21st under-card)
James DeGale: next fight, TBA (but expected to be Badou Jack in a unification fight).
Chances of winning: 6 out of 10.
If: If DeGale can add Jack's WBC title to his IBF, he will have solidified his claim to be the best super-middleweight in the world. DeGale would also set up potentially massive fights with the likes of light-heavyweight stars Stevenson and Kovalev (both of whom DeGale says he would like to challenge in a move up to 175) or maybe even a guy named GGG!
The best chance at achieving global stardom: Tyson Fury!