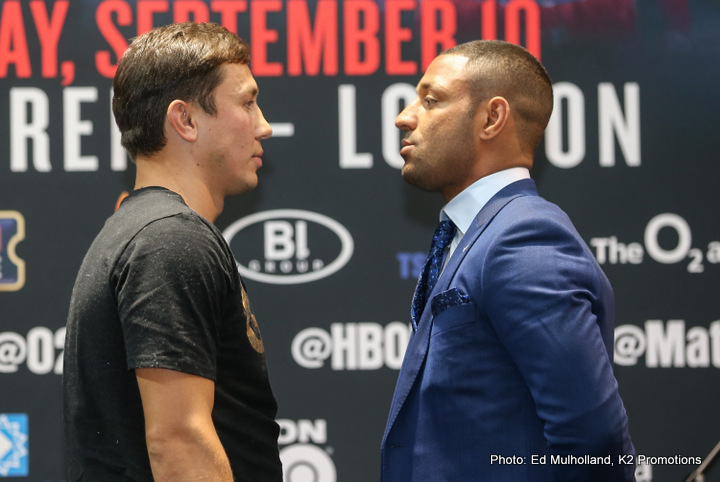 Kell Brook is shooting for boxing history and if he can somehow pull off a win over middleweight king Gennady Golovkin in just six days' time, his place in the history books will certainly be secure. And Brook, the IBF welterweight ruler, is watching the very best in the history of the sport as he gets ready, mentally, for the biggest fight of his life. Brook is a huge admirer of the two Sugar Rays, Robinson and Leonard, and he points to their great middleweight victories as his inspiration.
Robinson, generally ranked as the finest welteweight of all time, moved up to 160-pounds and dethroned the unimaginably tough Jake La Motta to take his second world title, while Leonard, a man who has just been ranked by Ring Magazine as the greatest living fighter, became a three-weight king when he upset Marvelous Marvin Hagler to take the middleweight crown.
Brook may be no Robinson or Leonard, but he sure wants to be. Brook, who is daring to be great and should be applauded for his lofty ambition, says he doesn't watch any Golovkin fights on tape, preferring to view the incredible achievements of these two members of boxing royalty.
"Sugar Ray Robinson was unbelievable," Brook said as quoted by Yahoo! Sports. "He used to fight so regularly and nobody could get near him. He moved up from welterweight to middleweight and just dominated the game. He was the perfect fighter for me in every way. Then Sugar Ray Leonard was super slick and back in those days, when he had the fights with people like Roberto Duran and Tommy Hearns – they were amazing fights. They are the fights that I watch. I don't watch Golovkin, I watch those old greats who have been there, done it and got the t-shirt."
But can Brook become a member of the exclusive club occupied by Robinson and Leonard? Brook is a good fighter, maybe a good fighter who has greatness in him, and if he can pull it off on Saturday he will have confounded a lot of critics who say he is entering the ring with next to no chance of winning. Robinson was a slight favourite to unseat "The Bronx Bull," while Leonard, though an under-dog against the Brockton southpaw, was not the tremendous outsider Brook is today.
The betting odds aside, Brook, his critics claim, does not have the firepower or the elusiveness to beat Triple-G. Robinson, who had a truly great chin, won a war of attrition with La Motta, while Leonard, a superb boxing master, out-witted Hagler. Which of these two methods can Brook use; if either? If Brook goes into the trenches with GGG, the thinking is he will be overpowered and knocked out, while Brook has never before shown the grace and the slickness of Leonard.
Brook will give it his best shot but in the end – around the 8th-round – the Sheffield man will understand even more just how special Robinson and Leonard really were.