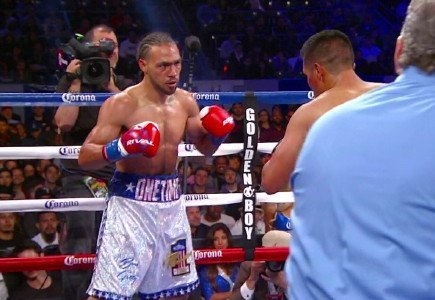 Oscar De La Hoya of Golden Boy Promotions says he had a conversation with his fighter WBA interim 147lb champ Keith Thurman last Saturday night, and he said that he wants to face IBF welterweight champion Kell Brook. Thurman can take the fight in the UK if that's where Brook and his promoter Eddie Hearn want it to take place.
Brook has a voluntary title defense for his next fight in November or December. That means he could definitely take the fight with Thurman if Hearn gives him the green light to take it. Brook is one of those fighters who will face anyone, so it's really up to Hearn whether or not he'll let him take on Thurman.
Hearn said to IFL TV last Saturday night that he wants to bring Brook back over to the UK for his next fight and stage it in Sheffield against a "top fighter." Thurman would definitely fit the description of being a top fighter, but what's unknown is what Hearn means by "top fighter."
Hearn could be talking about matching Brook against a bottom dweller at No. 15 in a title milking fight. It would depend, of course, on how much belief that Hearn has in Brook. If he thinks he's got the talent to take on the best fighters each time he fights, then we could see Brook face the likes of Thurman or Juan Manuel Marquez. But it's also possible that if Hearn has some lingering doubts about whether Brook has the talent to defend against the best, then we could see him fight a bottom tier fighter that won't have the talent to challenge him in any way.
"Talked to Keith Thurman last night and he said he will go to the UK and challenge Special K Brooks," De La Hoya said on his twitter.
Hearn wants to match Brook up with top names like Floyd Mayweather Jr, Manny Pacquiao and Amir Khan in 2015 in order to maximize the money that Brook can make with his career. With that said, it suggests that Hearn won't take any chances with Brook in his next fight by matching him up against a tough fighter like Thurman.
The problem is that Brook wouldn't have the same advantages against Thurman that he did last Saturday against 5'6" Shawn Porter. The opportunities to clinch Thurman continuously for 12 rounds to shut down his offense wouldn't be there because Thurman doesn't fight on the inside.
Brook doesn't have the jab or the power that Thurman has. Brook also doesn't move as well as Thurman, and isn't skilled defensively. It might be a nightmare matchup for Brook if Hearn would dare to put him in with Thurman.