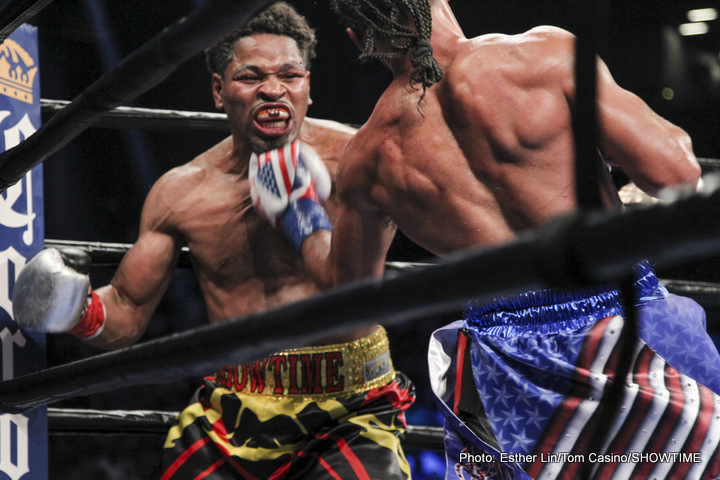 Make no mistake, Keith Thurman's thrilling win over Shawn Porter in a great action fight is more than worthy of a rematch. This welterweight rivalry seems destined to be one fans will be able to revisit – the question is when? We do not want this rematch to take eight long years to come to fruition; as was the case with the return meeting of the epic Sugar Ray Leonard-Thomas Hearns clash (a legendary fight that stands alone, but Thurman-Porter is worthy of being listed alongside it).
Reports surfaced a while back, stating how Thurman will likely sit out the remainder of 2016 so as to heal and rest after what was a punishing, gruelling battle in June. That seems a wise move, as that way, Thurman's next fight, if it took place in January or February of next year, would mean seven or eight months between bouts for "One Time," which is not too long a layoff these days. But is Kenny Porter, father and trainer of ex-IBF welterweight champ Shawn, pushing a little too hard by calling for his son to fight again in the next "eight to ten weeks?" Speaking with RingTV.com this week, Porter Snr said he wants his son to fight either a top-10 guy or even take a championship fight next.
That would be around October or November (although BoxRec has Porter down for facing a TBA on September 24th) – would this be enough time for Porter to have recharged his batteries after the Thurman war? If Porter comes back in what would be four or five months after such a hard (and losing) fight, would he run the risk of struggling against his "comeback" foe? If Porter did either look bad or, worse still, lose his next fight, the Thurman return would possibly disappear; or at least lose some of it's lustre.
Should Porter do what Thurman is doing and sit out the rest of the year and then head straight back into a rematch with Thurman early on in 2017? As great as fight-one was, fans don't want, at this time, to see Thurman fight anyone other than Porter next, and vice versa. Both men, rested, healed and fully ready to rumble against one another again in January, no tune-ups needed! Fight fans would love it. Arturo Gatti and Micky Ward had an immediate rematch, just over six months after their initial ten-round slugfest for the ages (and then a third and deciding fight seven months after that).
Thurman and Porter have unfinished business and neither warrior should use up any energy with other fights before meeting again. And if Porter can do what Gatti did and gain his revenge, we could be in store for a third special fight. And before anyone mentions Thurman's mandated defence against David Avanesyan, Thurman and Porter could fight with absolutely no title needed. Just as Gatti and Ward did.