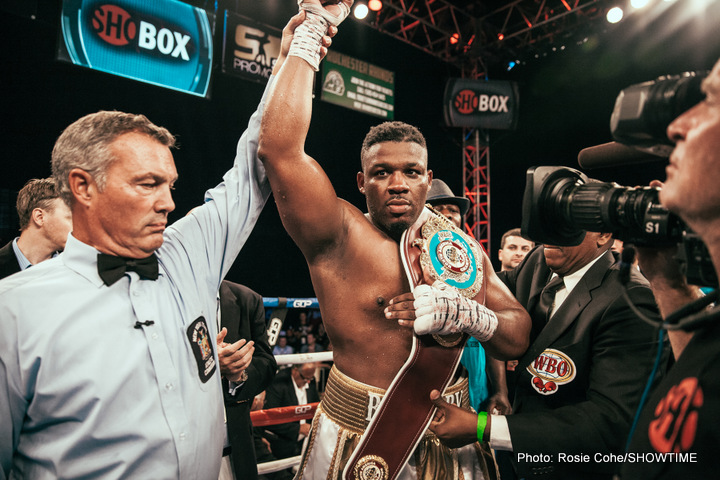 Jarrell Miller, who improved to 18-0-1(16) with last night's stoppage of the usually durable and tricky Fred Kassi, has got people talking, quite a lot of people. The big – very big at 296-pounds and 6'4" – heavyweight is talented, exciting to watch, powerful and he has, as he says himself, a big mouth he is not afraid to use. With a background in MMA, this no doubt testing his toughness, "Big Baby," as the Brooklyn slugger is known, has shown plenty as a boxer.
No, he has not yet beaten a top contender – his best wins coming over the likes of Donovan Dennis, Kassi and Raymond Ochieng – but as a prospect/contender, Miller looks the part. Already calling for a title shot, against Tyson Fury, Deontay Wilder or Anthony Joshua, Miller not appearing to care which champ he gets it on with, the 28-year-old could well be on the verge of defeating one of these rulers should he get the chance.
Miller has stated before how he would love to break IBF champ Joshua's jaw, and last night he expressed his urge to do the same thing to reigning (and currently injured) WBC boss Wilder. I don't know about you, but I think Miller is the perfect challenger for Joshua's next planned defence (in November or December, expected to be A.J's last voluntary, his second, before he faces mandatory challenger Joseph Parker). Miller says he is "begging for him to call my name," and he wants Joshua ASAP. Why not in November or December? Joshua had three fighters on his short-list according to Eddie Hearn: Parker (if they look to get the mandatory out of the way before next spring) Bermane Stiverne and Kubrat Pulev.
Pulev is still a possibility for the end of this year, but Stiverne is next going to face Alexander Povetkin in a WBC interim shot. So Parker aside, Miller looks, to me anyway, as the ideal challenge for A.J. How good is Miller? How good is Joshua? This fight would give us answers. Both men are young, athletic and can really punch. Miller is a massive heavyweight (is that 296 a sign of the future of modern day heavies, or is Miller simply carrying too much weight) and Joshua is a chiselled, sculpted specimen of a heavyweight.
The two would surely give us a collision worth tuning on for, even paying for. Miller has been compared by some to the great Riddick Bowe, and he does have Bowe's dimensions, his charisma and his thudding punching power. The jury is still out on Miller's chin, but the same thing could be said of Joshua's beard.
With Wilder out of action and Fury also inactive (and with his return fight with Klitschko being the next bout he will take whenever he does fight again), Joshua looks the most likely for Miller if he is to get what he says he wants so badly. Miller says he is begging for a shot at Joshua, but will A.J be willing to show his charitable (and risk taking) side and take this, a potentially great heavyweight fight?
Fans would likely have no problem if Joshua opted to make his next defence against Pulev, but if A.J doesn't take that fight, Miller seems the perfect (if dangerous) next opponent.