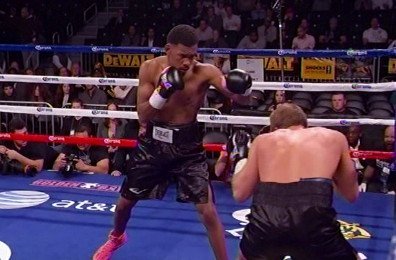 By Peter Wells: On an amazing card in Brooklyn the fans were treated to some exhilarating action in some quite brilliant world title bouts. Daniel Jacobs wasn't fighting for a belt last night, but his return to the ring after beating cancer last year is worth more than any belt. Jacobs has inspired many across the globe and there really was only one man the fans wanted to see win Saturday night at the Barclays Center.
Jacobs returned with a stunning first round knockout of a decent fighter in Josh Luteran (13-2). It was as if he'd never been away from the ring, showing his ability to throw neat combinations, and a lethal finish. Luteran went down from a big one-two and took a while to get up before he was helped to his feet. After celebrating his victory, Jacobs was quick to ask if his opponent was "okay".
In 2011, Daniel Jacobs was told by doctors that he would never box again, but Jacobs has a warriors heart and coming so close to death has only made him stronger. His ultimate goal is to win a world title, and I doubt there's a boxing fan out there that wouldn't want the same.
For now he's still rebuilding and the first block was laid down with quite a bang!