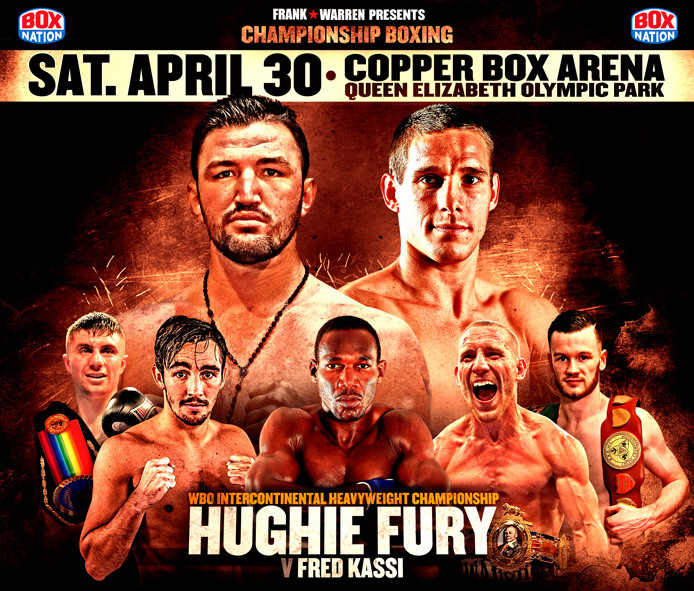 Share the post "Hughie Fury says he and Tyson will rule the heavyweights for a long time, "like the remarkable Klitschkos""
Though he has often been overly critical of the Klitschko brothers, Wladimir especially, deep down Tyson Fury respects both men as great champions. The trash-talk is back in full force right now, as is to be expected as Fury is getting ready to square off with Wladimir for a second time in his first title defence; so don't expect any kind words from Tyson when he speaks about Klitschko. But Hughie Fury, Tyson's cousin – who has never taken to the art of trash-talking the way Tyson has – has lots of respect for the Klitschko brothers and he isn't afraid to say so.
In fact, the unbeaten 21-year-old, who some say is a more naturally talented fighter than his cousin, is using the Klitschko brothers and their years of dominance as inspiration and motivation. The young Fury told The Mirror he believes that he will soon be capable of winning a world title and that when he does he will reign, for a long time, alongside Tyson.
"Tyson is already up there and I'll be right behind him," he said. "I see me and Tyson ruling the division like the Klitschko brothers – but with more flair. When I do fight for a world title it won't just be one or two fights, I will be ruling for a long time. So yes – we'll rule a long time like the Klitschkos. They are remarkable men, true champions, and it's a pleasure to be in their footsteps."
Hughie is back in action this Saturday, when he will meet tricky and tough switch-hitter Fred Kassi; a fighter who has given an excellent account of himself against big names like Chris Arreola (getting a controversial draw many felt he'd won) and prospect Dominic Breazeale (dropping a debatable decision to the man who just might be next for Anthony Joshua). An impressive win would move Hughie a big step closer to his dream. 21-year-old Fury, 19-0(10) may not be a huge puncher but he is fast, is a good boxer and has not been matched at all soft since turning pro back in March of 2013, which is a sign of how much belief Peter Fury has in him.
Is the world ready for two Furys at the top of the biggest and most prestigious weight division in boxing? Hughie says that if not, the world "better get ready." Big cousin Tyson faces what promises to be a far better prepared Klitschko on July 9th of course. If both Furys win their upcoming fights, that dominant reign will look more likely to happen. But can Wladimir prove that the Klitschko era is not quite over yet?
Share the post "Hughie Fury says he and Tyson will rule the heavyweights for a long time, "like the remarkable Klitschkos""