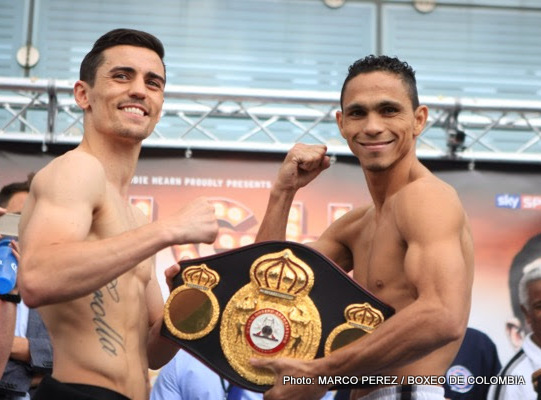 It would be hard to recall a more deserving and popular British World champion than Anthony Crolla, 29-4-2 (11KO's), should the 28-year old from Manchester defeat reigning WBA World lightweight champion Darleys Perez, 32-1 (20KO's), on Saturday night.
On paper it looks a formidable task for Crolla, facing the heavy-handed Columbian, beaten on only one occasion against the talented Cuban Yuriorkis Gamboa (UD12). Only to follow, with 4 straight victories, during a period of smooth success, in which he claimed the interim WBA lightweight title and defended it on 2 occasions in decent company.
The Colombian is bullish ahead of his first defence of the regular WBA title he received when regular champion Richar Abril was forced into recession with injuries. Not in the mood for fairy tales he is ready to silence the likely boisterous home faithful, unfazed by his role as the villain of the piece.
"It's going to be very loud and the crowd will be pro Crolla," said Perez. "I believe that I don't need a knock out to win the fight. I just need to get in the ring and start doing my work.
"He'll have everyone in the arena rooting for him. He'll have the full support of the crowd, but none of that bothers me. I know what I have to do to win and there's no way I'm going back to Colombia without my World title." concluded Perez.
In stark contrast to his Columbian opponent, Crolla has amassed a series of life experiences both good and bad, that most would avoid in a lifetime, let alone 3 years. The types of experiences that have seen him mature as both a fighter and man, proving his metal both inside the ring and out.
After losing to Gary Sykes during the Prizefighter tournament, the Mancunian has triumphed in a real crossroads fight with Kieran Farrell via a 10-round unanimous decision. The bout was a brutal affair that saw Farrell collapse in the ring post-fight and subsequently retire through severe brain injuries.
Moving on, the man known as 'Million Dollar', has been involved in two 'fight of the year' candidates, sharing the spoils with current interim WBA lightweight champion Derry Mathews and winning a close 12-round decision over former light-welterweight world champion Gavin Rees. Not to mention yet another local Derby against former lightweight world title challenger and friend John Murray, whom he halted in the 10th round in April 2014.
Crolla's career was going from strength to strength, showing a really maturity to his performances, eventually earning a dream world title shot in Manchester against then reigning WBA World lightweight champion, Richar Abril. Then disaster stuck, when he was injured in a sickening attack whilst in pursuit of burglars, leaving him with severe injuries that threatened to end his career.
It's been long road back for the Mancunian and the effects of such a traumatic experience won't truly be understood until he returns to the ring and in Darleys Perez he is well aware that anything but his absolute best will not be good enough.
"I need a career-best performance on Saturday night to win," said Crolla. "But the way I have prepared and the way I feel physically and mentally, I know I can bring that performance out of myself. It's going to be an amazing atmosphere and those fans will drive me onto victory.
"Stylistically, Perez and Abril are very different and styles make fights. I think it will be a better fight to watch, as our styles will gel well. Perez is a very good fighter, he's got power in both hands and he's a very good counter-puncher. I know I have to be switched on from the word go.
"Tactics are going to be important on Saturday night and with Joe Gallagher in my corner, I know he will have left no stone unturned in setting up the game plan." said Crolla.
If Crolla can return to the ring in the form in which he left it, Manchester could be in for yet another memorable night. Anything less than that, Darleys Perez will be waiting to take full advantage.
Photo by MARCO PEREZ / BOXEO DE COLOMBIA