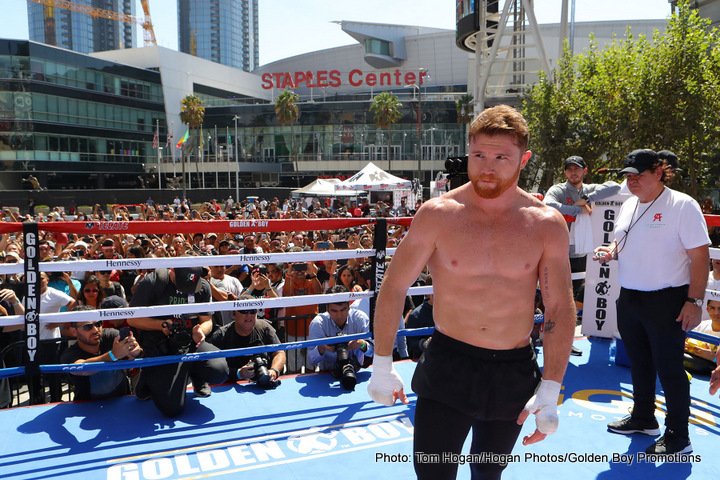 Promoter Eddie Hearn says Saul Canelo Alvarez's reputation is finished in boxing after his two positive tests for clenbuterol. Hearn believes that the highly popular Canelo Alvarez (49-1-2, 34 KOs) got off lightly with the 6-month suspension that was given to him by the Nevada State Athletic Commission earlier this week on Wednesday at their disciplinary hearing.
The suspension was a light one for Canelo, according to Hearn, as it reduced from 1 year to 6 months, and it didn't involve a fine or any follow up drug testing. With the suspension being retroactive from the date of Canelo's first positive test for clenbuterol on February 17, Canelo only has 4 months to wait for his suspension to expire on August 17 before he can fight again.
It's a slap on the hands in the eyes of a lot of boxing fans, especially given the lack of drug testing that will be done.
"It doesn't matter how long he's banned for. His reputation is finished in the sport," Hearn said to IFL TV about Canelo Alvarez. "He's a great fighter, but who knows how long he's been cheating for? Should he be banned longer? Yeah," said Hearn.
Hearn is assuming that the casual boxing fans in the U.S closely follow the sport enough for them to know about Canelo's two positive tests for clenbuterol. I don't think that's the case. The casual fans only have scant knowledge about things like fighters testing positive for drugs. The fans are too busy living their lives, working and keeping up with other sports, like football and basketball.
For most boxing fans, they likely will never know about Canelo's two positive tests. It'll only be the hardcore fans that know about Canelo's positive tests, as they won't hold it against him if he doesn't continue to test positive for clenbuterol in the future. However, if Canelo's physique looks the same as it did in his previous fight with Golovkin last September, a lot of boxing fans will suspect that he's PEDs.
Canelo's physique looked different in his fight with GGG than it had in the past, and that's what caused a lot of fans to suspect that he was using performance enhancing drugs. Social media was on fire with speculation before the Canelo-GGG fight last September that Canelo was using, but he tested clean during VADA's testing during training camp and after the fight. There was nothing the fans could say.
"Like any crime, if there's no punishment, it's just going to encourage people to commit them," Hearn said. "So if you're a young fighter and thinking of doping in the sport and you see Canelo Alvarez get a six-month suspension with no fine and penalty, 'I'll give it a go. I'll run the risk.' Maybe a life ban is what's needed to eliminate drugs from the sport. I'm not shocked by the six-month ban. Are you asking me is it outrageous? It shows a lot about boxing," Hearn said.
If it's believed that PEDs can take a fighter to another level, you can bet that struggling fighters will want to use the drugs to try and beat fighters that they normally couldn't if they were natural.
With drug testing only done during training camp for the fighters that aren't on year-round testing, there's a huge whole where a drug cheat can use PEDs without being caught. Boxing needs to change in that regard so that testing is done year-round. There's no point in only testing fighters during their training camps, because it's believed that fighters use PEDs before they get to camp to bulk up and to cut fat from their frames.
"I feel sorry for him," Hearn said about Golovkin. "He's fighting on May 5th in a fight no one wants to see, but he's got to fight. He's got to stay active. Canelo will obviously fight Golovkin on September 15th," said Hearn.
Golovkin is now fighting replacement opponent Vanes Martirosyan on May 5 on HBO World Championship Boxing at the StubHub Center in Carson, California. The fight is expected to break attendance records. The interest from the hardcore boxing fans in the fight is low, but there weren't a lot of options for GGG. He could have fought Sergiy Derevyanchenko or Demetrius Andrade, but those two fighters are no more popular than Martirosyan in terms of the casual boxing fans.
There was no upside for Golovkin to take on a tougher opponent on three weeks' notice. If there was another Canelo like fighter that the boxing fans were interested in seeing, you can bet that Golovkin's promoter Tom Loeffler would have signed that fighter as the replacement for him on May 5.
"This is a sport where they're in there to render the other fighter unconscious, and to do it under the influence of steroids, the cheater should be a criminal offense," Hearn said.
It's not realistic to assume that fighters will ever be charged with a criminal offense for testing positive for PEDs. It's also unrealistic to believe that fighters will ever be given lifetime ban. I don't see it happening.