Share the post "Haye to fight on July 6th in UK; Povetkin, Helenius and Banks possibilities"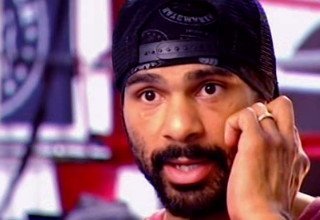 By Jeff Sorby: Former WBA heavyweight champion David Haye (26-2, 24 KO's) has decided to go the mandatory route to get a title shot against one of the Klitschko brothers after meeting with his trainer/manager Adam Booth to decide which way to go in his career. Haye plans on fighting next on July 6th at a still to be determined venue in the UK against possibly Alexander Povetkin, Robert Helenius or Johnathon Banks.
Haye, 32, had tried to circumvent going the mandatory challenger route by calling out the Klitschkos to try and entice them into a fight by letting them know how much money they would get for fighting him. However, Wladimir Klitschko already beat Haye two years ago by a lopsided 12 round unanimous decision, and he's not interested in the least to fight him again.
WBC heavyweight champion Vitali Klitschko seems to be debating whether to continue his boxing career, and he too isn't interested in facing Haye. The guy for Haye to target obviously is Wladimir because he does plan on continuing to fight, but Haye will have to lock himself down as his mandatory challenger before Wladimir will be forced to either fight him or give up his title by vacating it or having it stripped from him.
Haye has already applied to the British Boxing Board of Control to get his boxing license back. Haye just needs to pass a medical exam and he'll be licensed to fight.
Haye, #1 WBA, #4 IBF, #4 WBO, #5 WBC, is ranked high by all of the sanctioning bodies, but it's clear that the WBA is the fastest route for Haye to get a title shot against Wladimir. If Haye can land a fight against WBA champion Povetkin in the near future, he could take his strap and then be put in the position to get Wladimir to eventually face him.