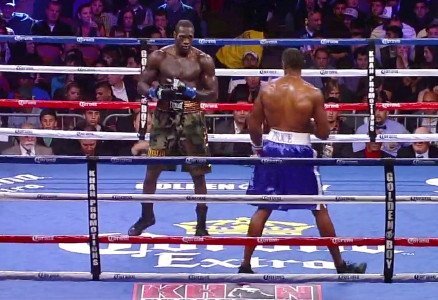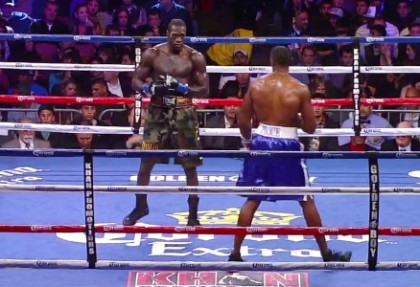 Whenever a big, exciting fight is cancelled, as bad as it is for the fighters who would have headlined the action, it's also time to have some sympathy for the under-card fighters and of course the fans who have bought tickets to the show. Fans, and under-card stars such as Scott Quigg and Yoandris Salinas (who would have fought for the vacant WBA super-bantamweight title) are currently reeling over the news of next Saturday's Tyson Fury-David Haye fight being postponed due to Haye suffering a nasty cut in sparring.
The main event is obviously now destined to take place at a later date, but could next Saturday's show be saved? I think it can be. Here's how. Instead of scrapping the whole card, why can't Tyson Fury get it on with a suitably intriguing/Box Office-worthy late replacement? You know who would, in my mind at least, be ideal? Deontay Wilder.
Wilder called out Fury after his April win over Audley Harrison, while Fury recently stated how he wanted to fight the unbeaten KO artist after he'd done what he was sure he'd do and beat Haye. Clearly then, both fighters WANT the fight. Wilder is in the U.K as we speak, having completed his duties as Haye's head sparring partner, and having acclimatised to England and its weather, and being in great shape due to the hard work he has been giving Haye and vice versa, why wouldn't he want to extend his stay in England by a week and get it on with Fury (Wilder does have a fight in place for the Hopkins-Murat card, but only against a TBA and therefore easily terminated)?
Fury, too, might like the idea of facing Wilder and not letting his hard, hard Belgian training camp go to waste (it could be six weeks or more before a fight with Haye can be rearranged and Fury might not want to have to undertake another "boring" training camp – "boring," or "shit" being the word Tyson has used when describing his recent camp). I know there are contracts in place and the promoters would have less than a week to get things in place for this fight to happen (and that's assuming both fighters did agree to it), but surely the fight could be made. And surely this would be a whole lot better for fans – who have paid for tickets, booked and paid for train tickets and booked and paid for hotel rooms – than a totally scrapped event?
Fury-Wilder would be a genuinely hot, even sizzling match-up; arguably as intriguing a fight as Fury Vs. Haye! And to appease Haye, the winner could agree to face "The Hayemaker" next. Maybe it's just me, but it all seems like the perfect solution and a far better scenario than one that sees thousands and thousands of boxing fans (even millions when it comes to the TV fans) being angered/frustrated and otherwise upset.
Can top promoters Eddie Hearn and Mick Hennessey work some magic and make this happen?
If they don't, it's worth wondering just when Haye-Fury will be re-set for. Six weeks is probably a good enough guess when it comes to when the rescheduled fight might take place. That takes us to November 9th. Fans in the U.K are going to have to part with more of their hard-earned cash for another Sky Box Office event on November 23rd (the Froch-Groves clash) – would another pay-per-view boxing event in the U.K really be such a good idea for November 9th, just two weeks before fans will again have to put their hands in their pockets? Two Box Office event almost on the trot, this not too far ahead of the expensive Christmas holidays?
No, the show next Saturday can and should be saved. We've seen fighters come in at such short notice before (remember, for one example, Bert Cooper coming in at six days' notice and almost upsetting Evander Holyfield?). Wilder wants Fury and Fury wants Wilder. If the paperwork can be done, why not get it on a week today?
Some fans may prefer a total refund – and having paid for a specific match-up in Haye-Fury they are of course entitled – but if you had a ticket, wouldn't you be agreeable to a Fury-Wilder clash by way of a replacement? Wouldn't that be better than no boxing at all on Saturday night? Then, the Wilder-Fury winner Vs. Haye would be an even bigger fight than Haye-Fury!