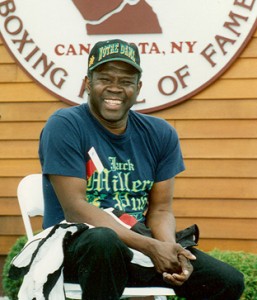 The International Boxing Hall of Fame announced its flags will fly at half-staff in memory of welterweight and middleweight champion Emile Griffith. He passed away early this morning at the Nassau County Extended Care Facility in Hempstead, New York. He was 75.
"Emile Griffith was a gifted athlete and a truly great boxer," said Hall of Fame Executive Director Edward Brophy. "Outside of the ring, he was as great a gentleman as he was a fighter. The Hall of Fame joins the boxing world in mourning his passing."
A native of the Virgin Islands, Griffith moved to New York at nineteen and won the Golden Gloves title in 1957. He turned pro in 1958 at age 20. Under the tutelage of Hall of Famer Gil Clancy and Howard Albert, he captured the welterweight title three times (1961, 1962-63, 1963-66) and the middleweight title twice (1966-67, 1967-68). In 1963, he was named "Fighter of the Year." In a 19-year career, he scored wins over Gaspar Ortega, Ralph Dupas, Florentino Fernandez, Denny Moyer, Holly Mims, Ernie Lopez, Joey Archer and Hall of Famers Luis Rodriguez, Nino Benvenuti and Dick Tiger. During his career he posted an 85-24-2, 1 NC (23 KOs) record.
In 1990, Griffith was elected into the International Boxing Hall of Fame.