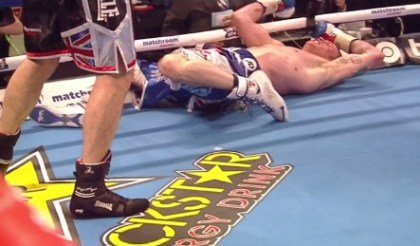 Share the post "Groves could be facing Anthony Dirrell for WBC 168lb title in 2015"
If #4 WBC George Groves (19-2, 15 KOs) defeated #2 WBC Christopher Rebrasse (22-2-3, 6 KOs) in their WBC super middleweight title eliminator bout next month on September 20th at Wembley Arena in London, UK, we could very well see Groves challenging unbeaten WBC super middleweight champion Anthony Dirrell (27-0-1, 22 KOs) for the title sometime next year. Groves has to be seen as a heavy favorite to defeat the light hitting Rebrasse.
Dirrell's power could be a problem for Groves because he hits so hard and he's got excellent hand speed. Groves isn't going to knockout a fighter like Dirrell. That's probably not going to happen. But for Groves to beat Dirrell, he's going to need to handle the huge shots that Dirrell hits him with for 12 continuous rounds.
Groves has been knocked out in his last two fights, and it's questionable whether he'll be able to take the blistering fast and powerful punches that Dirrell throws at him.
Groves is getting another quick opportunity to get a title fight after losing his last two title challenges to IBF/WBA super middleweight champion Carl Froch by knockouts. It is kind of a little strange that the WBC is allowing Groves to fight in the WBC 168 pound eliminator bout off of two straight losses to Froch, because that's not something you generally see a lot of.
Groves has a powerful promoter in Sauerland Events, and he's clearly better than pretty much all of the top contenders the WBC has ranked in their top 15 with the exception of Sakio Bika, who lost his WBC super middleweight title last Saturday night to Dirrell in losing a 12 round unanimous decision.
Some of Groves' fans feel that Dirrell, with the way he fought last Saturday night against the awkward Bika, would be easy pickings for Groves. But you can't know how well Dirrell will do against Groves from the Bika fight, because Dirrell doesn't look bad against conventional fighters. It was a different story for Dirrell against Bika.
The punches that Bika was throwing last Saturday came from all angles, and he was charging Dirrell with his head down much of the time in ramming position. At the same time, Bika showed superb chin to be able to get though the heavy onslaught from Dirrell in the 1st round and in rounds 6 through 9. Dirrell nailed Bika with power shots in those rounds that would have knocked out most super middleweights in the division, but Bika took the shots well and was only hurt once in the fight.