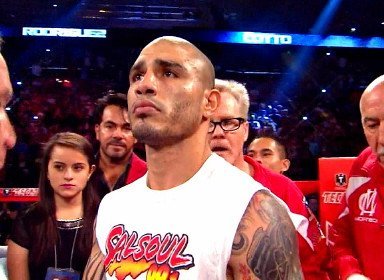 Since beating Sergio Martinez last June to capture his WBC middleweight title, Miguel Cotto (39-4, 32 KOs) has shown little interest in fighting a unification match against WBA 160 pound champion Gennady Golovkin (30-0, 27 KOs).
Well, Cotto may be soon forced to make a decision whether to fight Golovkin or vacate his WBC strap, because Golovkin's will be fighting WBC interim middleweight champion Marco Antonio Rubio (59-6-1, 51 KOs) on October 18th, and if Golovkin beats him, he'll become Cotto's mandatory challenger, according to Steve Kim.
Rubio's interim WBC middleweight title will be on the line in this fight. Before signing for the Golovkin fight, Rubio had been hoping that he would get a shot at Cotto, because he was his mandatory.
Rubio was in a great place to potentially get a nice paying fight if he were willing to wait and see what Cotto would do. But he decided not to wait around hoping that Cotto would one day fight him, so he went with the title shot against Golovkin. It was probably a wise move on Rubio's part because the chances of Cotto ever fighting him would seem remote at best.
With a win over Rubio on October 18th, Golovkin will put Cotto in a position where he's going to need to make a decision about how badly he values his WBC 160 pound title. It's not only that. If Cotto decides to vacate the WBC title rather than face Golovkin, he's going to look like he's running from him.
A lot of fans will look at Cotto's win over Sergio Martinez and see it as a situation where he picked out an aging champion at the end of the line and beat him to pick up his WBC title rather than facing a dangerous champion like Golovkin to try and win a title that really meant something.
If Cotto ducks Golovkin by vacating his WBC title rather than facing him, it's going to make Cotto look really bad. He'll be seen by a lot of boxing fans as someone who went after an easy mark in picking the 39-year-old Martinez.