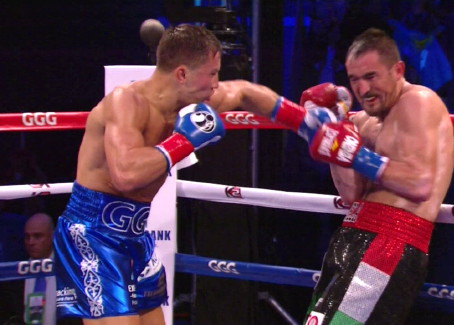 Abel Sanchez, the trainer for WBA Super World middleweight champion Gennady Golovkin, isn't too worried about Golovkin's opponent Martin Murray having a size advantage over Golovkin in their February 21st fight at the Salle des Étoiles, Monte Carlo, Monaco.
Sanchez figures that Golovkin will take away Murray's size advantage by knocking him down to his size with his big power shots. This could mean that we'll see Golovkin throwing a lot of body shots to get Murray to bend forward more to keep from getting hit with them as much.
"Gennady will cut him down to 5'10," Sanchez said today at the press conference. "I've never been the type of coach who adapts to somebody. They're going to have to adapt to us. Once Gennady hits him with one shot, he'll be 5'10."
Murray does have a size advantage of Golovkin, but that size doesn't translate to him having better power or even close to having the same kind of power that Golovkin possesses. Murray can fight decent on the outside, but he's going to have major problems trying to keep his distance from a guy that cuts off the ring like Golovkin does.
Murray is not going to be able to move enough to avoid to keep from getting trapped against the ropes by Golovkin. Unless Murray plans on doing a ton of holding to keep Golovkin from getting his shots off in this fight, it's doing to be a situation where Murray will get hit a lot and will need to fight back if he wants to keep from getting mowed. It's literally going to be a situation where he'll be fighting tooth and nail if he wants to finish the fight on his feet.
Murray has a tiny chance winning this fight if he has the perfect fight, and Golovkin is at his worst. However, this isn't going to be anything like what Murray endured in his fights against Felix Sturm and Sergio Martinez. Golovkin hits harder than those guys with every single shot, and he fights smarter as well. He's not going to be content with hitting Murray on the gloves all night long the way that Martinez was.