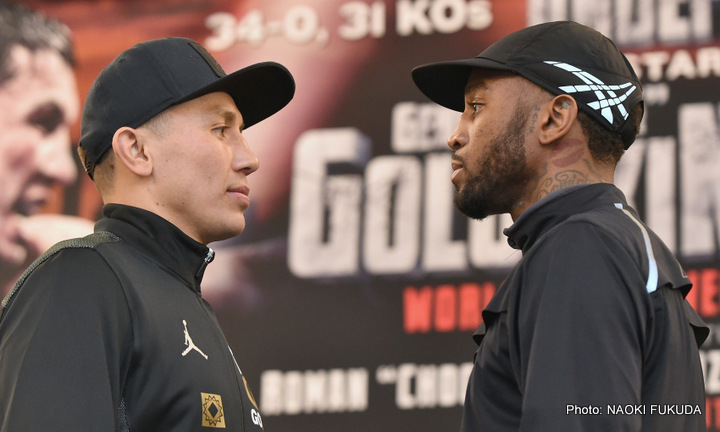 Not many in the sport of boxing think unbeaten Dominic Wade has any real shot at victory versus Gennady Golovkin this Saturday. But that doesn't stop the 15,000+ fans from attending this mismatch on HBO, at The Forum in Los Angeles. At this point Gennady could fight Roberto Duran and fans would still pay to watch this man perform. OK maybe not.
No hate coming out of this article, fact is power punchers tend to attract the biggest fanbase whether or not the fighter has proven their worth. And for the most part, besides Andre Ward, Golovkin's team has done their due diligent to scour the earth in search of a suitable opponent at the top-heavy 160 pound division.
Andy Lee just lost to Billie Joe Saunders, who turned the fight down and is likely steering towards a rematch with Chris Eubank Jr. Daniel Jacobs just climbed back up the ladder to beat Peter Quillin via 1st round knockout after being stopped himself in 2010 by Dmitry Pirog. And last but not least Canelo, who's team doesn't want to touch the fight with a ten-foot pole, at least at a full 160 pounds.
So what's a good boy to do? Remaining active has been K2's bread and butter to keep the buzz on their fighter trending upwards. From coast to coast the man from Kazakhstan can sell out venues like few can or have in the past several years. Putting him on interesting cards versus fighters that make sense geographically and pairing him with Roman Gonzalez has worked wonders.
For good reason many fans don't trust the WBC will do the right thing when it comes to stripping Canelo of his middleweight strap. Golovkin is the mandatory for Canelo's lineal title and doesn't want to drop down to a 155 catchweight, rightfully so. For the time being Gennady will stay busy while he waits for Canelo to outgrow the weight class below him. Golovkin's resume in the next year could be stuck in neutral waiting for that to happen. He likely will move north to 168 in search of a money fight or a real challenge.
Realistically how long should Triple G wait for a Canelo fight before moving up to 168 for good? It's hard to say, one can assume the clock is ticking to an extent, it's not like the 34 year-old fighter is young. Don't rule out a possibility of the WBC stripping Canelo so it guarantees he gets the belt, than the two fighters engaging in talks to meet halfway say at 158. Surely Oscar will pull the "you said anyone from 154 to 168 pounds" card he has stashed in his back pocket saving it for the post fight presser with Amir Khan.
With Oscar De La Hoya talking about marinating the fight it could be pushed into 2017 and beyond. More than likely Gennady Golovkin will moonlight at 168 until Golden Boy Promotions is good and ready for such a major risk. Technically speaking we don't know how much money Oscar will have to dole out to All-Star Boxing this summer, another huge factor not being discussed much in media circles. Time will tell if Gennady will get his crown to officially become the outright King at 160 that most think he currently is.
On to the lopsided main event versus Dominic Wade on paper a scary trend in recent headliners on HBO. Another mismatch almost worth not talking about because of Wade's inexperience coming off a gift split-decision win against a then 41-year-old Sam Soliman some nine months ago. Wade does have an amateur pedigree to fall back on along with a 4 inch reach that could help him stay on the outside. It's only a matter of time until Golovkin catches up to Wade and ends the show with yet another knockout. Let's hope for the fans that Wade can last longer than most foes and make it a competitive scrap. The undercard bout will be action-packed but Roman Gonzalez will stop the less talented Arroyo brother, McWilliams. If Golovkin can't land the Canelo fight this September look for a name like Gilberto Ramirez to come up for the late summer early fall.
Written by Chris Carlson Host of The Rope-A-Dope-Radio Podcast blogtalkradio.com/ropeadoperadio
Visit: The Rope A Dope Report on YouTube & Follow on Twitter @RopeADopeRadio