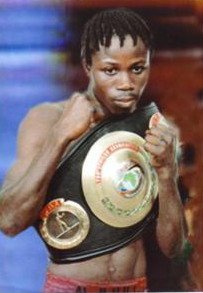 By Prince Dornu-Leiku: Ghanaian boxer Maxwell Awuku's burgeoning pugilist career has received a massive boost with the southpaw set to travel to the United States of America for a training assessment in California. Reigning WBO Africa and WBA Pan Africa Super Featherweight titlist Awuku, has sworn to realize the childhood dream to be a world boxing champion.
Awuku who is currently WBO number 11th ranked according to the latest September rankings released by the august body which holds their silver anniversary convention at the end of October in Florida, now gets ever closer to realizing the world championship dream as he gets the opportunity to train under the tutelage of the best trainers with best facilities in the US.
He has been invited by Don Chargin Productions to Fairfield, California spanning mid-October to November for training assessment with the view to discussing future endeavours and possible signing of professional contract.
"Maxwell is an excellent boxer. He has the potential and we are anxious to take him to the next level," said Don Chargin Productions chief Don Chargin himself.
Maxwell Awuku, 31-2-1, 20 KOS, has been touted as the next Ghana world champion and has improved massively under the tutelage of his manager Anthony Kermah who is also CEO of Ghanaian syndicate Landmark Promotions and Management Limited.
"The main purpose is to keep him in shape so that he could be on the level of (WBO Junior Lightweight champion) Roberto Martinez for a possible shot at the world title," Mr. Anthony Kermah said when this writer caught up with him in Accra.