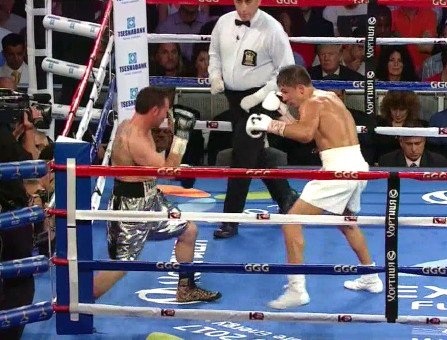 It looks like WBA middleweight champion Gennady Golovkin (30-0, 27 KOs) won't be getting the big fight that he and his promoter Tom Loeffler of K2 Promotions were hoping for in his next fight in October.
WBC interim 160 pound champion Marco Antonio Rubio (59-6-1, 51 KOs) is saying that he'll be fighting Golovokin next on October 18th.
"Since Miguel Cotto didn't want to fight me, we're fighting GGGboxing [Golovkin] October 18. I never back down from anyone. The battle is coming," Rubio said.
Rubio has power but he's not someone that will challenge Golovkin in any way. I rate Rubio below Curtis Stevens, a fighter that Golovkin recently stopped in 8 round.
Since @RealMiguelCotto didn't want to fight me,we're fighting @gggboxing October 18. I never backdown from anyone, the battle is coming!

— Marco Antonio Rubio (@MAVenenoRubio) August 15, 2014
Rubio is better than some of the guys that Golovkin has faced in the last three years, but not as good as others. Matthew Macklin and Daniel Geale would likely beat Rubio if a fight between them ever happened. Golovkin destroyed both Macklin and Geale in quick knockouts.
Golovkin wanted to fight Miguel Cotto, as did Rubio, but Cotto hasn't given any signs that he's going to face him. In fact, it's more like Cotto is going to on in the complete opposite direction by facing former middleweight world title challenger Andy Lee next on December 13th rather than risking his hide fighting Golovkin.
It's a good business decision by Cotto if he takes that fight, because Top Rank has done a good job of rebuilding his image by matching him against 39-year-old Sergio Martinez, who looked absolutely shot last June, and Delvin Rodriguez.
Golovkin's October 18th fight will be in the Los Angeles area in Southern California. Having Rubio as Golovkin's opponent is a smart business move by K2 Promotions, if the fight happens. Golovkin would prefer to fight Cotto or Saul "Canelo" Alvarez, but getting either of them to agree to a fight against him might prove to be hopeless.