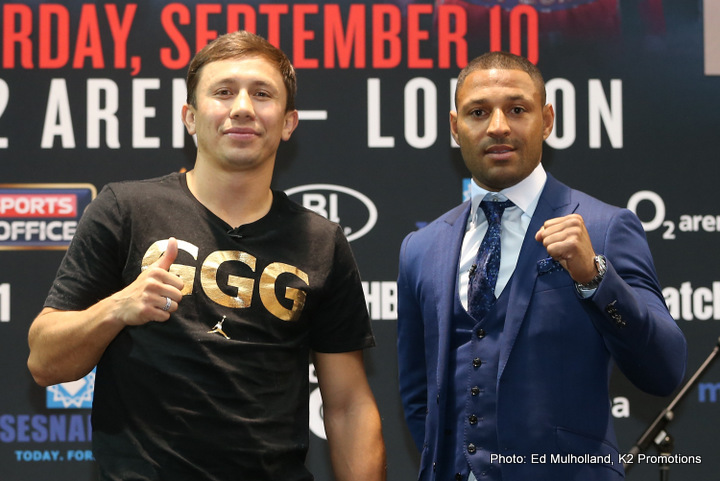 Is middleweight king Gennady Golovkin the hardest puncher, pound-for-pound, in the sport today? Many people feel the 35-0(32) star is and when you look at GGG's stats: those 32 KO's, the fact that no man has ever taken him the full 12-rounds and how Triple-G has a 100-percent KO ration in world title fights and a 91.4-percent ratio overall in his pro career, it's easy to see why. But Golovkin, training hard for his upcoming September 10 title defence against IBF welterweight champion Kell Brook, has Tweeted some very bad news for Brook.
"I hit harder every day," GGG Tweeted. Adding how he is "Bringing the fury this September. The best vs. the best."
While it's certainly debatable that the upcoming fight matches the best Vs. the best (a number of critics have cried mismatch ahead of this fight) it has to be agreed how the fight has attracted a ton of attention and is intriguing. Brook, massive for a welterweight, will not be dwarfed by GGG in any way. But can Golovkin possibly be increasing his already frightening punching power? It would be fascinating to be able to see some of the advanced punching methods Golovkin and his trainer Abel Sanchez are using in training, that's for sure.
Golovkin has brutal power in either hand and opponents have to watch out for his head shots, his body shots and his punishing jab. Brook, who hits with attention-grabbing power as a welterweight, will find out firsthand just how hard GGG hits next month. So far, another brave British fighter, Martin Murray, has the distinction of having taken Golovkin the furthest distance in a pro fight, Murray showing great heart and courage in extending Triple-G into the 11th-round back in February of last year (GGG being the sole fighter to have halted Murray).
Will Brook become the first fighter to hear the bell for the 12th and final bell in a Golovkin fight (Brook of course says the hell with that, believing he is going to win!) or is GGG really punching harder than he was in previous fights? A scary notion indeed!