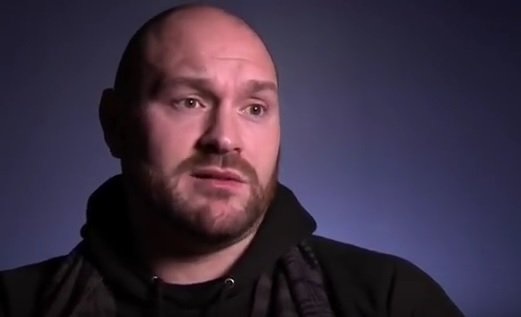 Tyson Fury has no doubts in his mind that IBF/WBA heavyweight champion Anthony Joshua (20-0, 20 KOs) will be getting exposed by WBC champ Deontay Wilder (39-0, 38 KOs) when the two of them get around toe facing each other soon.
Fury says Joshua is a "limited" fighter, who runs out of ideas quickly if he can't score a knockout. Fury sees Wilder's agility and speed as making it a forgone conclusion that he'll beat Joshua easily in the future.
There's question marks whether a fight between Joshua and Wilder will ever get made while the two of them are at the top of their games. Joshua's promoter Eddie Hearn believes that Wilder doesn't deserve a 50-50 split of the revenue for a fight between them. Hearn isn't saying what split he feels Wilder is worth, but given that he keeps talking about what he's made in the past for his fights, it's quite possible that he won't offer Wilder more than a 60-40 split.
"There are a lot of big fights to choose from," said Fury to BT Sports. "I wouldn't say he's at the top of the pack," said Fury about Joshua. "Is he a better fighter than Deontay Wilder? In my opinion, he's not and if those 2 fought, I believe Deontay Wilder would knock him out. I think the agility and the speed of Wilder makes it a forgone conclusion [that he would beat Joshua]. AJ is a limited opponent. He's big and strong and that's it. He's not going to bring anything into the ring that you're not expecting. He's not going to get on his toes and dance around for 12 rounds. He's going to look to land power punches. Failing to do that, he's lost. You can never write someone off like that, because he's always got a puncher's chance. [Wladimir] Klitschko was winning the fight, winning most of the rounds quite easily, giving him a boxing lesson. A man 42-years-old, who was way past his best and he almost knocked him out of there," said Fury.
Wladimir came close to beating Joshua by boxing him from the outside and hitting him a few times with big shots. Joshua was down in round 6, and fully tired for the next 3 rounds after that from the 6th to the 9th.
Fury says he's coming back to boxing not for the money, but for the legacy. He wants to expand his legacy by showing he's the best fighter in the heavyweight division. Of course, the money will be there for Fury. He's not going to turn it down.
"Money isn't the motivation. I'd rather leave a legacy," said Fury. "I still got it [the money]. I didn't spend a lot of money. I invested it cleverly. I'd rather have a legacy than money. I'd rather be known as the best fighter of my time. Money doesn't mean anything to me. I proved that by walking away from $10 million against Klitschko. I will reign supreme again," said Fury.
Fury is expected to get his boxing license back by the British Boxing Board of Control in January of next year. From there, Fury will take a series of tune-ups before facing Joshua in late 2018 or in early 2019.