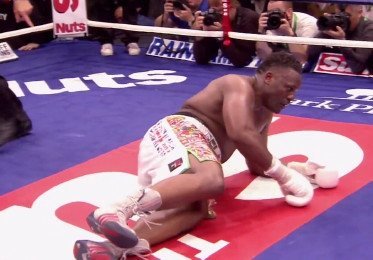 Promoter Frank Warren has big plans for Dereck Chisora and Tyson Fury, Chisora has come up with his own novel idea of a big plan; and Fury has a whole bunch of big plans he's set for himself. Warren, as fans may have read, hopes to stage a Chisora-Fury rematch in the summer, in what the promoter feels would be a massive event to be held at a football stadium in the UK, and there is the possibility the would-be rematch could also be a world title eliminator of some kind.
Both fighters are highly ranked, experienced and both are young and hungry and it's certainly possible, maybe even probable, that a case could be made for the summer rematch winner having earned a shot at world ruler Wladimir Klitschko. Chisora has of course already fought a Klitschko – losing a hard-fought 12-round decision to big brother Vitali not too long ago. Ever since that fight, having done himself proud (in the ring when the bell rang, not so much the infamous spitting/slapping/post-fight brawling with David Haye) Chisora has craved a shot at Wladimir. Maybe, if he can get revenge over Fury (who out pointed him back in 2011), Chisora will get his wish.
But, as he revealed to Gareth A Davies of The Telegraph, Chisora doesn't just want a regular, everyday shot at Wladimir: he wants to recreate the fabulous "Rumble in the Jungle" of 40-years ago by fighting Klitschko in Zaire in tribute to Muhammad Ali's epic win over George Foreman.
"I want to fight Wladimir Klitschko this year," Chisora told Davies. "I want to take the fight to Africa, to Zaire. Frank [Warren] knows I want that, and if we could take the fight to Africa it would be 'The Rumble in the Jungle' all over again."
You certainly can't accuse "Del Boy" of failing to think big. And, in terms of actually getting the shot at Klitschko, Chisora said he aims to get himself in a mandatory position (with the WBO) so as to be in a stronger position when making a deal. So, it could be that the potential Chisora-Fury rematch winds up being more than just a big deal for British fight fans. And just imagine, if it really happened – as unlikely as it is that Chisora's dream comes to fruition (would Wladimir be tempted to fight in such an irregular setting?) – how interesting it could be seeing a "Rumble in the Jungle II!" The way Klitschko has been winning and winning and winning in predictable fashion, at least fans would have a new angle to appreciate if this unlikely scenario unfolded.
Of course, Fury is sure he will repeat his win over Chisora, maybe even get a KO this time. That would possibly do it for Chisora: as a top contender and as far as him getting his dream fight with Wlad. Fury hasn't spoken of his desire to pay homage to Ali, but he is massively keen on getting in there and destroying Klitschko, a fighter he has thrown a number of insulting names at. Most experts feel Fury will fall short if he does get his chance, but these same people admit they would get a fun fight all the same.
Klitschko has a busy schedule ahead of him: a WBO mandatory defence against Alex Leapai next, then a likely IBF obligation against the unbeaten and far more formidable Kubrat Pulev. On top of those two fights, Wladimir has made it clear he wants to add the recently vacated WBC strap to his collection, so that desire could result in a third fight this year. Will Wladimir possibly have time to face the Fury-Chisora II winner in 2014?
There are some interesting fights for the heavyweight division of today, and who knows, this year we could see the following: the first ever undisputed (as in WBC, WBA WBO, IBF, IBO, Ring Magazine) heavyweight king, a "Rumble in the Jungle II," the WBC belt changing hands a couple of times as exciting fighters Chris Arreola, Deontay Wilder and Bermane Stiverne mix it up. Of course, we could also see some heavyweight upsets. What price, for example, on unbeaten danger man Andriy Rudenko (who the European champ will meet next month) ruining Chisora's lofty plans before Fury has his chance to do so?
But Chisora's "Rumble in the Jungle II" idea is a good one, and that heavyweight classic deserves a fitting tribute on its 40th anniversary. But is there a heavyweight match-up capable of providing such a thing?