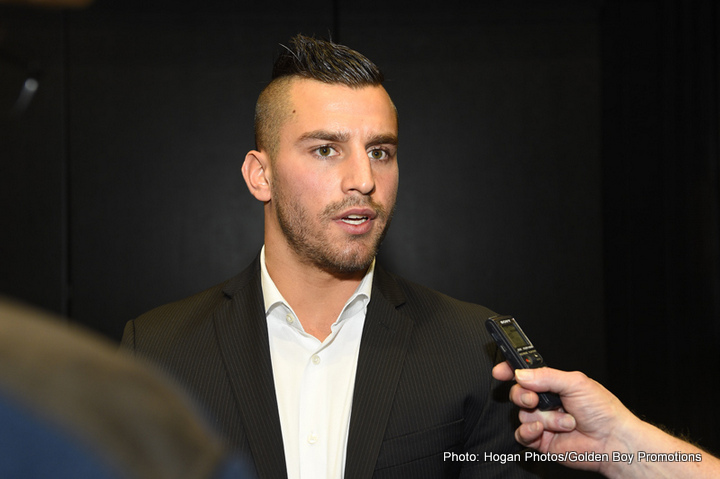 Boxing fans the world over were rejoicing last night at the news big hitting middleweights Gennady Golovkin and David Lemieux are set to face off in a huge unification showdown, live on HBO PPV on October 17th at the legendary Mecca of boxing, Madison Square Garden.
Newly crowned IBF champion Lemieux had thought to be first considering making a mandatory defence of the title he won last month against Hassan N'Dam, although earlier this week his promoter Oscar DeLa Hoya had confirmed provisional talks to make the fight had begun.
And a pair of tweets from both fighters yesterday confirmed the much-anticipated bout was now a reality, with WBO champion Golovkin tweeting;
"I will fight @Lemieuxboxing in a middleweight title unification on #October17 @TheGarden & on @HBO PPV! #GolovkinLemieux
Lemieux wrote simply;
"The fight is on!!! Golovkin yes finally. This is exciting!! Let's war!!
The fight could well be this generation's Marvin Hagler/John Mugabi in terms of potential explosiveness and already fight fans the world over are rubbing their hands together with glee at the kind of powder-keg match-up boxing could really do with to keep casual fan interest rolling in the wake of the growing UFC and the "McGregor effect" as well as May's disappointing Mayweather/Pacquiao fight.
Speaking to ESPN.com, Golovkin's manager Tom Loeffler said;
"In one word: finally. We've gone to great lengths to try to put unification fights together for Gennady. We have to give Lemieux and Golden Boy a lot of credit for stepping up to the plate. Gennady will not underestimate Lemieux. He is the biggest puncher he will have ever faced, and Gennady will be the biggest puncher Lemieux will have ever faced.
"It is a great unification fight between two champions and the two biggest punchers in the middleweight division. If Lemieux wins, he takes over the spot as the best middleweight in the world, and if Gennady wins, he stays the best middleweight in the world."
Explaining why he chose to let Lemieux fight Golovkin now, rather than a mandatory challenger, De La Hoya said;
"What changed my mind and everyone involved is that Lemieux can beat GGG, so why even waste our time with the mandatory? Let's go straight to GGG,"
"He has a real shot at beating him. And this is the big fight he wanted, and when we presented this fight to him he was ecstatic.
"Lemieux is fired up. He says, 'Nobody has ever pushed Golovkin back. He does not know how to fight going back.' Lemieux has a beautiful jab, and he is going to use it."
The fight will represent the PPV debut of both fighters and is a massive chance for Canadian Lemieux to sit atop the middleweight pile.
"When you talk about getting bang for your buck it doesn't get any better than this," De La Hoya said.
"When you think about the pay-per-view numbers we're being real here. This is not a million-selling pay-per-view. We're thinking along the lines of between 350,000 and 500,000 buys. You have to start somewhere, and this is a perfect fight for both guys to start off on pay-per-view. Obviously, we are going to stack the card like there's no tomorrow. We want to give the fans bang for their buck."
And Lemieux, who won his title in exciting style against Frenchman Hassan N'Dam last month, issued a pertinent warning to the murderous punching Kazakh;
"Everyone should be ready to have a new man to fear in the middleweight division
"I am well aware of what kind of power I am facing, but I'm not worried about it. It's going to be a war. I know he's going to come to fight. He might break my nose, but I'm going to break his too.
"I've said very honestly that I don't care who I fight, so long as they are the best, and Golovkin is the best out there in the middleweight division. And I consider myself fully of his caliber. I don't want any easy fights. GGG is the fight that people want to see.
"He wants me, then he'll get me. On the 17th, it's going to be fireworks. I want history. I want big, big things. And this is another big step."
Twitter @Undilutedpoison