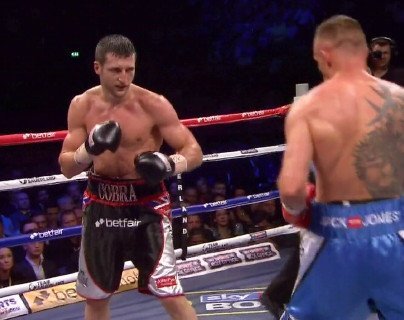 It looks like if WBA super middleweight champion Andre Ward (26-0, 14 KO's) wants a rematch with IBF/WBA super middleweight champion Carl Froch (31-2, 22 KO's), then it's going to have to be in the UK because Froch is making a big production about wanting the fight to take place there because Froch fought Ward in the United States two years ago in Atlantic City, New Jersey.
Froch feels that this was a home fight for Ward, even though he comes from Oakland, California, which is 3000 miles away.
After tonight's 12 round unanimous decision victory for Froch over WBA super middleweight champion Mikkel Kessler in London, UK, Froch said to Sky Sports "He [Ward] is there to be beaten, but not over in America. Let's get him over here. I went over to America and now let's get him over to England."
Ward said on his twitter to Froch's promoter Eddie Hearn: "It's very simple, Pick up the phone, Eddie Hearn!!"
I hope Ward doesn't hold his breath waiting for Hearn to call him because I don't see that happening, and I believe Froch was just bluffing with his offer of having Ward come over to the UK to fight. There's too many easier targets for Froch to go after, such as a rematch with Kessler and a catch weight fight against 48-year-old IBF light heavyweight champion Bernard Hopkins.
I can see Froch – and Hearn – targeting those two fighters in back to back fights rather than facing Ward and having him put Froch in his place once again like he did in 2011. I think Ward doesn't get the rematch with Froch even if he were willing to fly to Froch's home city of Nottingham, UK, and fighting him there in front of 9000 of Froch's fans.
Froch doesn't realize that Ward didn't have home advantage when he beat him in Atlantic City, New Jersey. That's not home advantage because Ward doesn't have a large national fan base in the U.S. His fans are in the Bay Area in California. Having a fight in Atlantic City was like fighting in a foreign country for Ward because he didn't have a fan base over there.