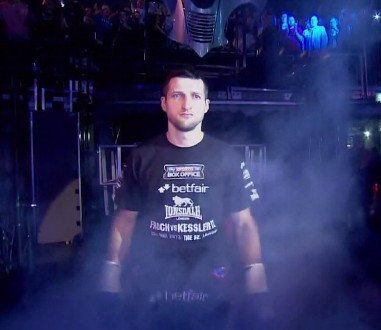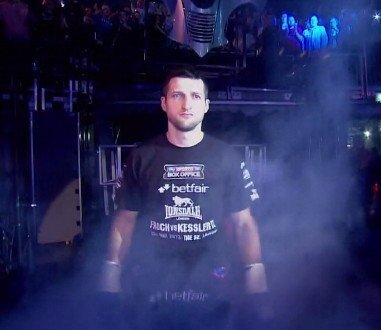 Eddie Hearn of Matchroom Sport says a fight between IBF/WBA super middleweight champion Carl Froch (31-2, 22 KO's) and his mandatory challenger George Groves (19-0, 15 KO's) will likely be Froch's next fight in November. The International Boxing Federation ordered the fight to take place, and they had a deadline of July 12th to come to an agreement on the fight.
Hearn got an extension to July 17th, but he says they should be able to make a concrete decision by then whether the fight will be made or not.
Hearn says it's possible Froch could vacate the IBF title, and Groves would then either fight for the vacant IBF title or go after WBO champion Robert Stieglitz.
In an interview with I Film London, Hearn said "I think Groves-Froch most likely [will fight], but it's not a shutout."
Froch doesn't like the idea of vacating his IBF belt because he wants to be able to collect all the super middleweight titles. If he gives up the IBF belt now that'll be one more belt he'll have to back track for later to try and pick up.
I think it's smarter for Froch to face Groves now because it'll be an easier fight for Froch now then it'll be if he waits a year from now when he's a little older and Groves has improved. Froch just turned 36 this week, and he didn't look like a spring chicken in his last fight against Mikkel Kessler last May.
I wouldn't say Froch won that fight, but rather Kessler lost it by fighting so passively in the first 4 rounds when Froch was throwing a limp jab over and over. That jab wouldn't have stopped the top super middleweights in the division, but it stopped Kessler because he was frozen and looking like didn't know what to do or he didn't want to go after Froch the way he needed to.
Groves would beat Froch if he had fought that night because he wouldn't have waited like Kessler, and Froch's limp jab wouldn't have stopped him for a second. This is why it's probably in Froch's best interest to fight Groves now before he gets much older.