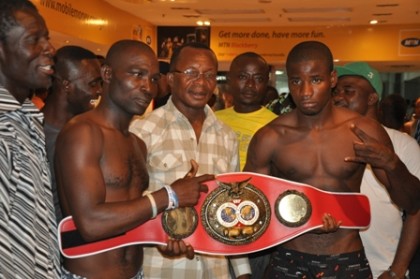 By Prince Dornu-Leiku – The up and coming Ghanaian boxing stallion, Frederick Lawson meets his opponent in the body of Isaaac Sowah for the IBF Africa Welterweight belt Friday night at the Accra Sports Stadium on the undercard of Fresh King Entertainment's first ever promotion featuring former world champion, Joseph King Kong Agbeko to be screened live on Metro TV across Africa and many other parts of the world.
Unbeaten Lawson has won 18 of his 19 professional fights via knockout and has been tipped by many local boxing connoisseurs to bring world title glory one day. His credentials for the big stage however face a strong challenge from experienced Isaac Sowah alias The Hammer who has been talking tough and is keen to exploit the situation to revive his career.
The fight date has had to be postponed twice already increasing fans appetite what will happen when it finally blows off on Friday with many tipping it to outshine the main bout of the night between Joseph Agbeko and Luis Melendez of Colombia and Ghanaian boxing stakeholders eagerly await the sound of the first bell.
According to the IBF Africa President, Onesmo Ngowi who jetted into Ghana yesterday to oversee the weigh-in of the two boxers at the Silverbird Cinema located inside Accra Mall on the fringes of the capital city.
Mr. Ngowi who has been working hard to inject quality promotions and consequently boxers on the continent, only on Wednesday supervised the IBF International Bantamweight championship in Namibia between Namibian Immanuel "Prince" Naidjala and Lesley Sekotswe of Botswana which ended in a draw and a rematch called.