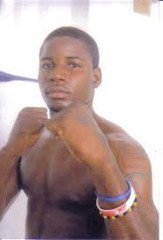 Four of Ghana's top prospects, Welterweight Frederick Lante Lawson (19-0, 18 KOs), Cruiserweight Ibrahim Labaran (7-2, 6 KOs), Bantamweight Manyo Plange (7-0, 6 KOs) and Emmanuel Quartey (14-2) are set for an enhancement of their professional boxing careers in the United States along with their trainers Kwesi Yeboah Addo and Joshua Ayamga, Sportsinghana.com can exclusively report.
The quadruple who have consistently fought to great success have been lined up for extended training duty and big fights in the USA at Chicago, Illinois precisely the Will County Boxing Gym under the stewardship of trainer cum Manager Joseph Awinongya who has seen and is confident of word title glory for the four.
Of the 4, unbeaten Fred Lawson boasts a 94% knockout ratio having won 18 of his 19 bouts by stoppage. He was taken the distance in a unanimous decision win in his fifth pro fight but has stopped all other opponents. He turned pro in March of 2011 and has been a very busy boxer thus far in his pro career and has been tipped for great professional success by leading boxing connoisseurs.
Plange has also been busy and successful at stopping his opponents. Since turning professional in a decision victory in October 2012, he has notched six straight knockouts. His punching power is sure to make a difference on the US scene.
Quartey 14-2, has already faced world-class opposition in his career, going on the road to South Africa earlier this month and falling to ten year pro and South African native, Tshifhiwa Munyai in a bout for a WBA Regional Super Bantamweight Title. Quartey will be on the comeback trail in the USA looking to refine his skills and to gain another title shot.
Labaran dropped his first two pro bouts, but has since reeled off seven straight wins to get his career on track.
So all is set for the big boys of Ghanaian boxing to make the big jump to the Mecca of the sport, the USA for an expected brilliant career.