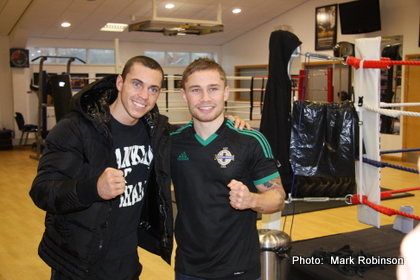 We are just days away from a fight that was at least three years in the making: Scott Quigg against Carl Frampton in a super-bantamweight blockbuster that will have its venue, The Manchester Arena, rocking on February 27th.
For months and months now, the two unbeaten stars have been taunting one another, with promises of knockouts and of the beaten man being "exposed." Quigg, trained by ace trainer Joe Gallagher, is convinced he will emerge victorious, while Frampton, guided by Barry McGuigan and trained by his son, Shane, has no doubt it will be he who has his hand raised.
Eddie Hearn, in speaking with the Belfast News Letter ahead of his latest promotional monster, says he can only see one winner – Quigg of course and Hearn may be somewhat biased – and that Quigg will win in "brutal" fashion.
"Joe Gallagher is telling me that this kid is hitting so hard and I share the confidence that this is going to be so brutal," the Matchroom boss said. "This is going to be brutal. I think it is going to be a brutal fight and a brutal finish. I cannot see Scott Quigg losing this fight. I just can't see it. He is too determined, too big, too strong, too devastating. The atmosphere that night will be the best you have seen in British boxing. You are going to have ten thousand English and ten thousand Irish fans."
But which of these fans will go home happy?
Looking at the recent form of the two fighters, and when appreciating how much Quigg has improved under the long months of tutelage and hard work with Gallagher, a Quigg win is a relatively easy one to argue. Quigg, 31-0-2(23) absolutely blew away common opponent Kiko Martinez in his last outing, a fighter who had previously given Frampton all he could handle in two bruising battles. Frampton on the other hand, was decked twice in his points win over Alejandro Gonzalez Junior. The critics, including Quigg, were all over Frampton after his latest performance, suggesting he has a suspect chin. To his credit, however, Frampton came back well from the opening-round knockdowns, to win via wide scores in what was his U.S debut.
You are only as good as your last fight, according to one of the oldest sayings in boxing. This adage isn't always proven correct, but Quigg and his powerful display does seem to have persuaded a number of fans that he will indeed get the stoppage win two weeks on Saturday. Frampton is a tough, skilled and equally determined fighter though, and this fight is not seen as a 50-50 match-up for nothing. Has Frampton, 21-0(14) been in with tougher opposition and did he "soften up" Martinez for Quigg, at least a little?
Many questions will be answered on Feb. 27th in the unification battle. And what's more, the winner must then face sublime Cuban talent Guillermo Rigondeaux next. This only adds to what is already a hugely significant fight in super-bantamweight history.