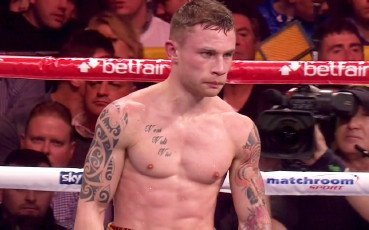 San Diego, CA -September 6, 2014–Carl Frampton won the IBF Super Bantamweight title with a 12-round unanimous decision over defending champion Kiko Martinez in front of over 16,000 fans at an outdoor stadium at the Titanic Quarter in Frampton's hometown of Belfast, Northern Ireland.
The championship fight was seen live and exclusively in the United States on AWE- A Wealth of Entertainment
Frampton was very consistent and scored a knockdown in round five with a terrific counter. Frampton's work caused a cut around the left eye of Martinez. Frampton was cut in round nine from a left hook from Martinez.
Martinez came out in round ten and began to work the body and for a moment it looked like Frampton was tiring but he came back to land a hard right hand and carried the momentum into the 11th round when he landed some wicked combinations which drew a roar from the overflow crowd in Belfast. Frampton again landed a huge flurry of punches that rocked Martinez into the ropes in the final frame. Frampton cruised down the stretch to take the title by scores of 119-108 twice and 118-111.
This was Frampton's second win over Martinez as he stopped him in nine rounds in February, 2013.
The 27 year-old of Belfast is a world champion is a world champion with a record of 19-0. Martinez of Spain is now 31-5.
"He was a hard puncher. He is a tough man. I respect him more than any man I ever fought," said Frampton. "This is a dream come true, 20 years in the making."
The IBF Mandatory is Chris Avalos, but Frampton has eyes for mega domestic showdown with WBA champion Scott Quigg.
"There are so many options out there but the man I want is Scott Quigg. I will fight him anywhere."
Frampton also captured the title in honor to his promoter and mentor, former world champion, Barry McGuigan.
"I am immensely proud of Carl. He is twice the fighter I was." , said the Hall of Famer, McGuigan.
Woke up with a sore head this morning, must have been in a fight last night. Thank you all for your amazing support pic.twitter.com/dG5IFPuPP6

— Carl Frampton (@RealCFrampton) September 7, 2014
Marco McCollough stopped former Bantamweight world champion Dmitry Kirillov after round eight of their scheduled ten round WBO International Featherweight bout.
McCollough dominated the action as he pounded away on Kirillov and the former champion had enough and bowed out of the fight.
McCollough, 125 1/4 lbs of Belfast is now 11-7 with 7 knockouts. Kirillov, 125 1/2 lbs of St. Petersburg, Russia is now 31-5-1.
Eamonn O'Kane and Virgilijus Stapulionis fought to a no-contest when a bad cut over the left eye of Stapulionis forced the bout to be stopped in the 4th round of their 12 round Middleweight bout.
Stapulionis hurt O'Kane badly in the first round as he landed a big right hand that wobbled O'Kane into the ropes and it was ruled a knockdown. O'Kane stumbled back to his corner. Stapulionis was cut around the left eye in the 1st round from a clash of heads. In a weird moment, Stapulionis' was deducted a point in round two for using too much Vaseline. The two continued to fight with a lot of clinching and grabbing and the blood continued to stream down the left side of Stapulionis face until the bout was stopped at 2:47 of round four.
O'Kane is ranked number-10 by the IBF and was defending his IBF Intercontinental Middleweight title.
Jamie Conlon won the WBO Intercontinental Super Flyweight title with a 10-round unanimous decision over Jose Estrella.
Conlon fought with a bad cut over his left eye but went on to win by scores of 99-92 and 97-93 twice.
Conlon, 114 1/2 lbs of Belfast is now 13-0. Estrella of Tijuana, Mexico is now 14-6-1.
Please check www.awetv.com for boxing updates