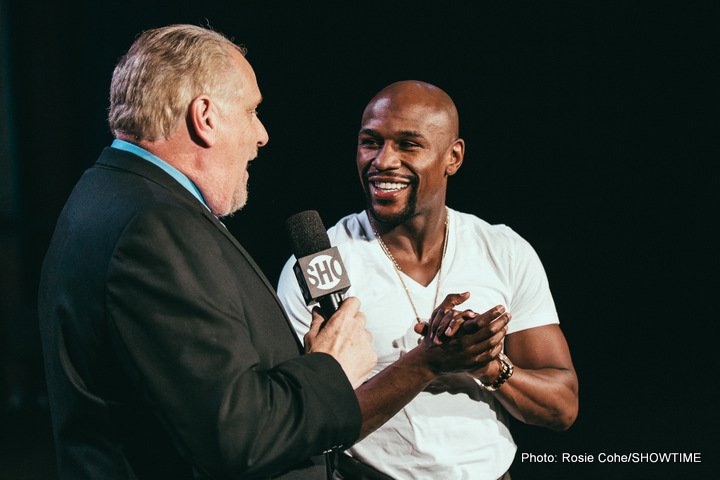 We've all seen the fantastic shape "retired" great Floyd Mayweather has kept himself in; his videos and pictures on social media showing how the soon to be 41 year old has barely put on a pound since his August fight with Conor McGregor. And is it due to the fact that Mayweather has been hitting the gym for what seems like intense training that people everywhere are asking if "Money" will fight again.
Well, according to a piece via TMZ Sports Mayweather has been "telling people close to him that he's considering a 51st fight – and he's been training like a maniac in the gym." The piece goes on to say how "people close to Floyd say he's still in fighting shape and ready to go."
The folks at TMZ also reached out to Showtime's Stephen Espinoza, asking him if there is any news. Apparently, Espinoza is "not ruling it" – as in yet another Mayweather ring return – "out at some point down the line."
Would it be a big shock if Floyd did announce his plans to fight again? Not at all. But the big question here is this: just who would Mayweather face if he did, shall we say, roll the dice one more time? The fight the fans would love to see is a Mayweather-Gennady Golovkin fight, but that one really would be a gamble for the 50-0 veteran superstar.
A Conor McGregor rematch fight would shock no-one, and in light of how much cash the August "Super Fight" pulled in, it could indeed take place. One man Mayweather will NOT be fighting should he return is Britain's Amir Khan; who has recently called Mayweather out once again.
"For the last five years all I have been hearing is Amir Khan running his mouth off that he deserves a shot against me," Mayweather told The Sunday Star. "It's nothing new to me. Every fighter out there wants a chance against me because they know, win or lose, it's going to be a big payday for them. I have always maintained I am nobody's meal ticket. Only last month I read about him [Khan] calling me out of retirement. He wants to fight the best pound-for-pound fighter in the world and now I hear he is running away from a few snakes and spiders. I only set up fights with fighters who deserve it and who are going to be part of a great fight for fans. Please! He needs to get real and stick with TV."
As far as the snakes and spiders go, Floyd is referring to how Khan is currently taking part in hit UK TV show "I'm a celebrity, get me out of here," filmed on location in Australia; the participants having to undergo a series of ordeals involving various creatures of the jungle.
Khan has shown how he has more than one phobia, put it that way. Khan hasn't covered himself in glory at all, really – recently asking whether or not there has ever been a female British Prime Minister! Still, all this aside, it is true how a number of good judges feel Khan would in fact give Mayweather all the trouble he could handle due to his incredible speed of hand. But as Mayweather has made clear, he ain't interested in giving Khan a shot.