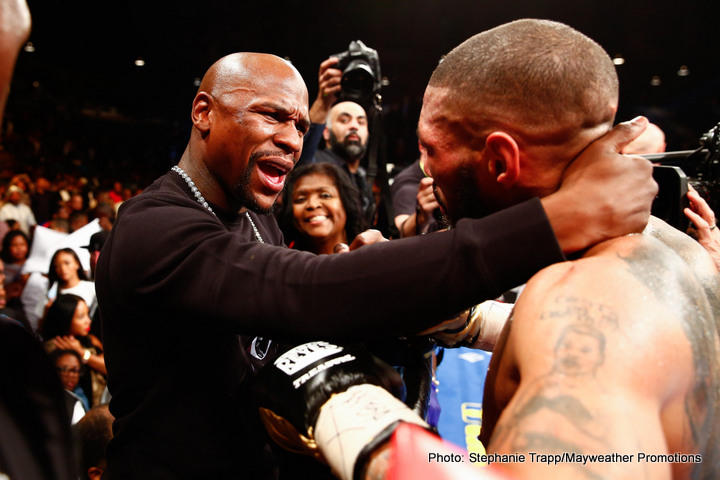 Share the post "Floyd Mayweather Junior back training hard in the gym; 50th fight coming soon?"
"Retired" superstar Floyd Mayweather junior was back at work in his gym yesterday, jumping rope and putting in some "hard work and dedication." Mayweather posted a video of his training via Instagram, with the written question – "How far are you wiling to push yourself to get to the top and stay on top?" on his Twitter page. Of course, this return to gym, Floyd's office, has led to speculation that "Money" will soon announce his 50th pro fight.
Mayweather is of course 49-0 and ever since his "retirement" following his wide decision win over Andre Berto last September, many people have expected Mayweather to announce that yes, he is indeed going to fight again at least once more. Can Mayweather possibly resist fighting again and in so doing trying to reach a record of 50-0? If he's not coming back, or planning to, then why the return to the gym – one he has made public knowledge?
Mayweather will turn 40 next February and that is a considerable age for a boxer, even one as special, and punishment-free, as Mayweather. Still, there were no signs of Mayweather slowing down in the Berto fight, or in any of the previous fights Floyd had to that bout. Never a man to abuse his body or get out of shape or pile on the weight, Mayweather, who certainly lives the life, wouldn't face the obstacles many a returning fighter would after a year or a year and-a-half out of action. Mayweather certainly looks to be in great in the short video he has uploaded.
So if (when) Mayweather fights again, who might the opponent be? Pure speculation is all we have on this subject, and Mayweather has a number of possible dance partners for his monumental 50th fight. A return with the soon to return Manny Pacquiao? A "grudge-match" of a fight with Adrien Broner? A shot at WBC welterweight king Danny Garcia? A boxing/MMA bout with Conor McGregor?
Floyd certainly has plenty of options, and if he has the motivation and feels like the Mayweather of old during his future training, that 50th bout will likely take place. Mayweather, back in the ring in the spring of 2017? It does look to be a good bet.
Share the post "Floyd Mayweather Junior back training hard in the gym; 50th fight coming soon?"