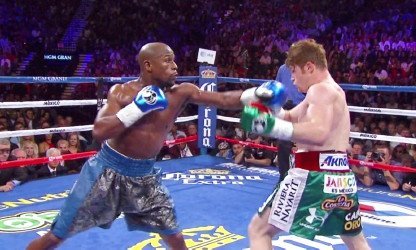 It seems as though Mayweather Jr. had just fought Miguel Cotto, but in reality has already conquered Robert Guerrero and Saul Alvarez. I suppose we are just not used to seeing Mayweather Jr. fight so often.
His contract with Showtime was questioned at first, but for boxing fans and Mayweather Jr. fanatics, it turned out to be a blessing.
Now, just 3 months after his dominating performance against Canelo, Mayweather Jr. is already on the verge of knowing his next foe as well as the date of the fight. Or at least that's what it seems like:
"Next week. I'm looking forward to next week," said Mayweather Jr. when asked about his upcoming fight plans in an MLive article.
It is highly unlikely, impossible if you ask me, that Mayweather Jr. will announce the fight that most have been yammering about since the beginning of time. Will Bradley be the next man to try to crack the Mayweather Jr. algorithm? Or will it actually be Amir Khan? I guess we might find out next week.
More @ http://cgboxing.blogspot.com/
https://www.facebook.com/VitaliFightPress