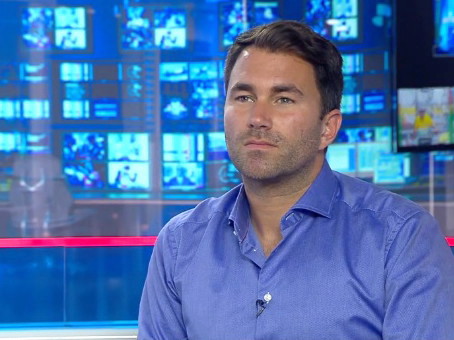 With a Scott Quigg/Nonito Donaire fight looking increasingly like it won't happen – after comments made by the latter's wife recently – a degree of hope and expectation has once again turned to the sought-after domestic world title clash at super bantamweight between Quigg and Northern Ireland's IBF boss, Carl Frampton.
Speaking to mirror.co.uk however, the WBA (reg) champion's promoter, Eddie Hearn, has expressed his distaste at what he calls 'arrogance' from the Northern Irishman's camp, complaining the fight is once again moving further away after his revised financial offer to the 'Jackal's' team was turned down.
"I was hoping they would be sensible and I needed them to move just a couple of percent – we are talking £100,000, £150,000 in the bigger pot of things and they won't do it," Hearn said.
"It hasn't happened because of pure arrogance, really, from their side."
Earlier this year Hearn and his Matchroom outfit made a flat £1.5 million pound offer that was turned down after Frampton's team believed he would potentially be left with a smaller piece of the pie when PPV and additional revenues were factored in.
Since that time Frampton has signed with elusive advisor, Al Haymon, and he made his Premier Boxing Champions and United States debut in July – on the same night Quigg destroyed old Frampton foe Kiko Martinez in Manchester.
After an inauspicious start, 'The Jackal' came through against little known Mexican, Alejandro Gonzalez Jr and it's no secret that fighting under Haymon in America– particularly for the fighters in lower weight classes – is where the money is for the UK guys right now.
Following their July performances, Frampton – who most fans recognise as the bone-fide champion of the two thanks to Quigg being a 2nd tier titlist – spoke out to say he was keen on the fight, although it seems that Barry McGuigan, who manages the Irishman and is oft cited as a stumbling block, is rightly or wrongly refusing to budge.
What Frampton's next move will be if no Quigg is unclear, although a mandatory defence against Japan's Shingo Wake (19-4-2, 11ko) is looking like the most realistic proposition – again on the PBC brand, no doubt.
In a chat with iFLtv over the weekend, Hearn refused to speculate on, or completely rule out Quigg fighting Donaire, going on to say he was 'working on something' and didn't want to jinx it by revealing the exact details on camera.
Twitter @Undilutedpoison