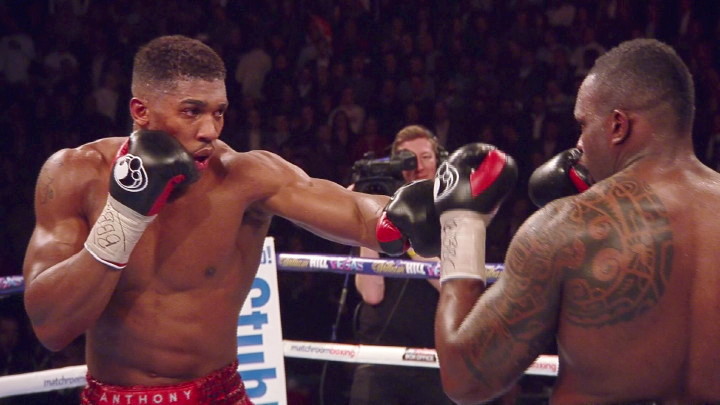 As one would expect, unbeaten British heavyweight star Anthony Joshua has a ton of options available to him, for his next fight, set for April 9th, and the coming months. It is the next step in the pro career of the 2012 Olympic gold medal winner that is of paramount importance right now though. And, in speaking with Sky Sports News HQ today, his promoter went into detail about how hard it is working out who is genuine in their calling out of "A.J" and who is not the real goods.
Eddie Hearn confirmed that a fight with newly belted IBF heavyweight champ Charles Martin remains a possibility for April 9th at The O2 in London – after it was the unbeaten Martin himself who recently called out Joshua.
"We were due to announce his opponent today. There have been a lot of people calling Anthony Joshua out, claiming they want to fight him and we need to find out which of those are real," Hearn said. "There have been some big opportunities bandied around. Now it's a case of flushing out the people who are not real and focusing on the ones that are and April 9th, if we get our way, is going to be a night to remember at The O2. He's [Martin] IBF world champion and he's been calling Anthony Joshua out. He's made some noise saying, 'We've offered Anthony Joshua the fight.' It doesn't really work like that. You phoned us up and told us you wanted an extortionate amount of money and then you'll fight him so we're working the numbers on that fight. Is it too early? It's a huge gamble. Two relatively inexperienced guys. They both punch with immense power.
"He's not out only option. We've got three or four other options but over the next 48 hours, we'll find out exactly where we're at."
Hearn signed off by saying "just maybe" when asking the question himself, could Joshua's next fight be for a world heavyweight title.
It would be interesting to find out just how much money Martin and his people are asking for. The fight, if it happened, would be a big event, not just in the U.K. Joshua, his fans say, would be more than capable of beating Martin – a man who won the crown he now holds due to something of a fluke, when Vyachelsav Glazkov's knee blew in a fight where until that point nothing had really happened. In fact, it could be argued how Joshua has more experience at pro level than Martin.
Can Joshua win a version of the world title in just his 16th pro outing, and if he does, what then – would he go for the other belts or get busy defending the IBF belt? As Hearn says, it's a huge gamble if the Martin fight happens. But it would certainly be one that would financially reward both the two fighters as well as the respective promoters.