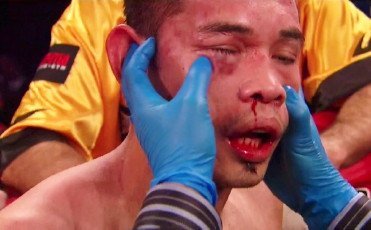 Guillermo Rigondeaux may not be back on HBO, but the guys that he easily beat Nonito Donaire (31-2, 20 KO's) is in what will likely be a mismatch against 37-year-old past his prime Vic Darchinyan (39-5-1, 28 KO's0 on November 9th in a triple-header in Texas. Top Rank, the promoters for the show, will also have Mikey Garcia moving up in weight to face WBO super featherweight champion Roman "Rocky" Martinez, and junior middleweights Vanes Martirosyan vs. Demetrius Andrade.
In other words, we're looking at two mismatches – Donaire-Darchinyan and Garcia-Martinez – and one competitive fight on paper between Andrade and Martirosyan. I'm not sure if this is a really great card to be honest. I like Garcia, but I don't like him fighting a paper champion. I'd rather see Garcia fight Jhonny Gonzalez or Abner Mares.
It is strange that Top Rank has Donaire back on HBO, but not Rigondeaux. I guess it doesn't pay to win fights sometimes. If the loser [Donaire] gets his fights televised, and winner [Rigondeaux] doesn't, what message does that send to other boxers?
I think Donaire vs. Darchinyan rematch would have been great years ago, but right now it's kind of off putting. Darchinyan has been losing a lot lately, and has lost 2 out of his last four fights. When I say lose, I mean LOSE. Darchinyan got dominated in every sense of the word by Anselmo Moreno and Shinsuke Yamanaka. Why HBO is letting Donaire fight him instead of a top featherweight is the big question.
The Darchinyan-Donaire fight will be taking place at featherweight, and not super bantamweight. Donaire has moved up in weight to featherweight now, because it's too difficult for him to make the 122 lb. weight limit at super bantamweight.
Darchinyan asked for a catch-weight of 124 lbs., because he's small even for a super bantamweight, but he was turned down. That's another reason why this is a mismatch. Darchinyan is too small to be fighting Donaire now, and his age is also working against him.
If Donaire is going to be fighting at featherweight, it's hoped that he'll be fighting featherweights, and not be one of those fighters that drags guys from weight classes below him up to his weight class. It kind of removes the whole point of moving up in weight if you're still fighting guys in divisions below you. Darchinyan should be fighting at super flyweight, not at featherweight.
Darchinyan stopped being an effective fighter after he moved up to bantamweight to chase bigger pay days, at he has no business fighting a featherweight. Donaire could end up weighing in the 140s by the time he steps foot inside the ring with Darchinyan, and it's likely going to be a huge weight difference between them to go along with Donaire's 2 inch height advantage.
The Donaire-Darchinyan rematch is way too late in the game to be taking place, and it's now almost unsporting for it to be happening. Darchinyan is really slipped, and while Donaire looked terrible in his last fight against Rigondeaux, he's still in his prime.