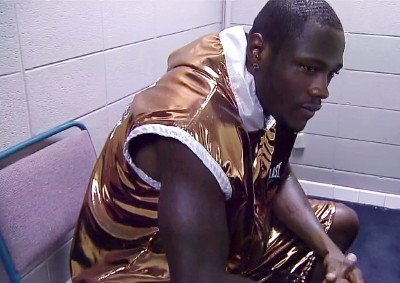 By Michael Collins: Unbeaten heavyweight prospect Deontay Wilder (24-0, 24 KO's) will be sparring 40-year-old Audley Harrison (28-5, 21 KO's) for three weeks in California, according to Wilder's trainer Jay Deas. The 6'7″ Wilder will be used to get Harrison ready for his October 13th fight against 6'8″ David Price (13-0, 11 KO's).
Wilder and Price are both big hitters, although Wilder seems to be the stronger puncher and has more hand speed as well as explosiveness.
Harrison and Price will be fighting at the Echo Arena, Liverpool, UK. This is a make or break fight for Harrison, as he can't afford yet another loss in his sagging career.
Price, 29, is taking the slow trip up to the top and has been facing soft opposition since he turned pro three years ago. Sadly, Harrison is actually a step up for Price.
Wilder, 26, will have to take it easy on Harrison because it might end up knocking Harrison out over and over again during sparring sessions and that might not help Harrison any get ready for Price. If Wilder goes all out, Harrison will be lucky to make it out of the 1st round in any sparring session involving the huge hitting Wilder.
I think it's definitely a good thing to have Wilder spar with Harrison, because he's a lot faster than Price and his power is arguably a lot more lethal as well. However, Wilder is going to have to take it easy on Harrison for this to be any benefit to the British heavyweight.