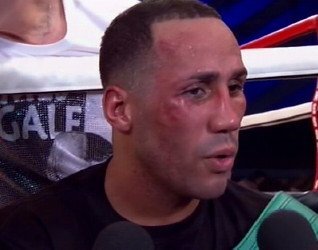 By Michael Collins: #4 WBC contender James DeGale (14-1, 9 KO's) could wind up facing unbeaten WBA/WBC super middleweight champion Andre Ward (26-0, 14 KO's) in late 2013. Mick Hennessey, the promoter for DeGale, is confident DeGale will be Ward's mandatory challenger before the end of the year, and will be looking to get a title shot soon after that.
Speaking to the Dailymail.com, Hennessey said "By the end of this year, we are looking to become the mandatory challenger for WBC world champion Andre Ward."
Looks like Hennessey is looking to put DeGale into a fight where he won't get as much criticism should he lose badly. There's nothing wrong with getting soundly beaten by Ward because he's considered to be the best fighter at 168 by far.
It would be a win-win fight for DeGale because all he has to do is make Ward has to fight hard to win, and it would be a morale victory for DeGale even in losing the fight. All he has to do is give Ward some problems, and he'd make a name for himself in the process.
If Hennessey were to put DeGale in with the other super middleweight champions Arthur Abraham, Carl Froch and Mikkel Kessler, a loss to one of them would be a bigger hit for DeGale in terms of losing some of his stock. He'd likely lose to all of those guys badly. But by choosing the best of the super middleweights to face, DeGale won't take as hard of a popularity hit in getting beaten by him.
It's not a fight he win because DeGale is someone that is struggling just to beat guys like Hadillah Mohoumadi and Piotr Wilczewski. That kind of gives you a good indication of where DeGale is talent-wise.
DeGale will be defending his WBC Silver super middleweight title next month against the revent Abraham knockout victim Pablo Oscar Natalio Farias (24-2, 16 KO's) on March 23rd at the Glow, Bluewater, Greenhithe, Kent, United Kingdom.
This could be just as tough a fight for DeGale to beat him as it was for him to get past Wilczewski and Mohoumadi. Without much power to speak of, DeGale is forced to labor hard to beat the fringe contenders, and this fight will likely be no different.