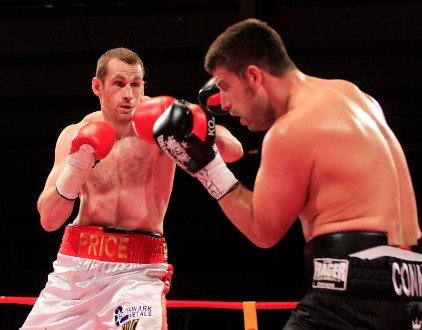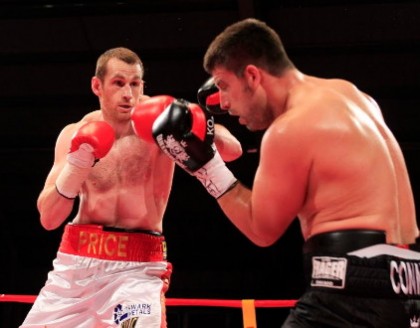 British heavyweight David Price will return to the ring on May 29th, on the under-card of the Tony Bellew-Ilunga Makabu cruiserweight title clash that will go ahead in his native Liverpool. Price, last seen being iced inside two rounds by Erkan Teper, has been working – very hard by all accounts – with promoter and trainer Dave Coldwell and the 32-year-old still believes he can fulfill the potential he showed earlier in his career when he was chopping down the likes of Audley Harrison and Matt Skelton.
It all went wrong for Price, 19-3(16) when he was beaten twice on the spin by Tony Thompson. The Teper loss looked to have finished Price, a 2008 Olympic bronze medallist, but the subsequent failed drugs test by Teper has convinced Price that he was beaten only because his opponent cheated. Thompson too failed a post-fight drugs test, after his second stoppage win over Price. We will never know whether or not a clean Teper would have done the same thing to Price as he did last July, but it's understandable how Price wants a fresh start.
The first step in his latest comeback takes place, against a TBA, on the big outdoor show set for Goodison Park on Sunday, May 29th (the day before a bank holiday, with possibly as many as 30,000 fans to be in attendance).
"I'm going to be fighting on the Tony Bellew under-card in Liverpool," Price told Sky Sports. "We are still waiting for conformation but it's 99-percent. I've been spending time in the gym getting going with my training. There was no major rush but I am ready to get back now. As far as a name [I could be facing] is concerned, I've got no idea. I'll always stand by the fact that I've only lost to two men who both failed drug tests. I've been cheated."
At age 32, and not having taken too much punishment in his career, Price is certainly young and fresh enough to still be able to make it back. But what about his chin? Can Price relax when entering a fight he feels is going to be a tough night's work? By his own admission, Price was all burnt out even before he got in the ring for his rematch with Thompson, so filled with anxiety was he as the crucial bout approached. Whether or not this is a problem Coldwell can fix is yet to be seen.
Price is one of the sport's good guys and it would be great to see him come back well and show what he can do. And if Price lands first, against any heavyweight, there is a good chance he will win. It's when he starts getting hit back that Price will have to answer the questions many people have about him. Price might have these same questions in his own mind.