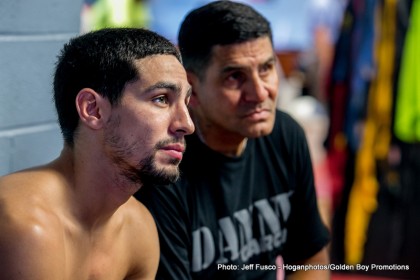 Danny Garcia has finally vacated the WBC 140lb title that he hasn't defended in over a year by way of an agreement with the WBC , who incidentally, have installed him as "Champion Emeritus" – a la Vitali Klitschko – which essentially just means he can come back and challenge for the belt should he so desire.
Which is something that will not happen – believe me.
Garcia has been struggling to make the 140lb limit for a while now and keeps suggesting to anyone who will listen that he's intending a jump to 147 lbs, so this news really shouldn't have come as much of a surprise to anybody – if anything, we've been expecting such an announcement.
With his last fight against Lamont Peterson and a mooted bout with New Yorker Paulie Malignaggi (set for August) – both being contested above the 140lb limit, it's clear Garcia is just hanging on to belts that he physically can't defend.
Expect his WBA and Ring magazine belts to go the same way.
His mandatory challenger, Viktor Postol – who has been paid once to step aside already – will now contest the title against Lucas Matthysse.
Twitter @Undilutedpoison