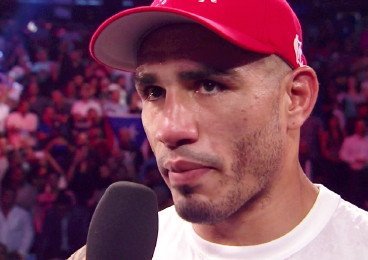 WBC middleweight champion Miguel Cotto (39-4, 32 KOs) and his trainer Freddie Roach wanted to capture the WBC 160 pound strap for legacy purposes. Cotto wanted to win a 4th division world title, because it's something he valued and he felt that it would validate his career.
Now that Cotto has the belt after beating 39-year-old Sergio Martinez instead of someone a little younger and active like WBA middleweight champion Gennady Golovkin, there's talk that Cotto will possibly be facing a weak opponent for his next fight on December 13th.
The name that is mentioned the most right now is #8 WBO, #9 WBA, #12 IBF Andy Lee (33-2, 22 KOs), a fighter known for having been stopped in the past by Julio Cesar Chavez Jr and Brian Vera. Lee recently was pummeled badly by John Jackson for 4 rounds until Lee caught him with a shot to score a knockout in the 5th round. Lee lucked out in getting the stoppage, because he likely wouldn't have lasted more than 2-3 rounds with the punishment he was taking.
Lee fought on the Cotto vs. Sergio Martinez undercard last June at Madison Square Garden in New York. With Lee fighting on the undercard, you can guess that Cotto's management was already thinking ahead about Cotto's first defense if he were to beat Martinez, which he easily did by a 10th round stoppage.
Martinez's surgically repaired knee looked weak in the fight, and his mobility was nowhere to be found. He looked like an older fighter who could no longer move around the ring like he used to.
Golovkin's trainer Abel Sanchez would like to think that Cotto will consider facing Golovkin this December in a unification fight, but that's highly unlikely. The word is Golovkin doesn't have the name value to be an opponent for Cotto. Of course, if Cotto fights Lee, who has less of a name than Golovkin, then you have to wonder whether Golovkin's lack of popularity is the real reason why he's not getting the fight.
"You have to think Golovkin's name will come up when Miguel begins opponent discussions, because Cotto is the so-called linear middleweight champion, and if not, Cotto needs to answer why not," Sanchez said to thesweetscience.com.
I don't think Golovkin's name will be mentioned as part of the discussion for Cotto's next fight. It seems that Cotto will be looking to take a relatively safe fight for his next fight, and then fight Saul "Canelo" Alvarez at a catch-weight of 155 pounds next May on Cinco de Mayo.
What's going to be interesting is to see if Cotto fights his December 13th fight at a catch-weight as well. Fighting one title defense at a catch-weight is okay, but when they happen every time, then it's disappointing to see. Canelo isn't even a middleweight.