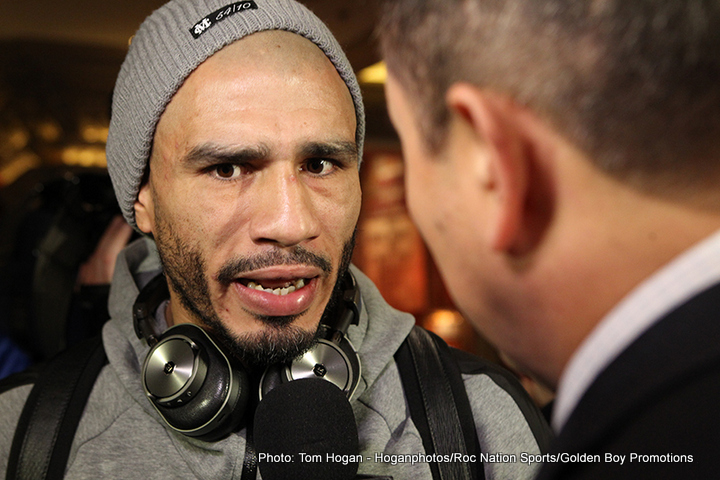 Miguel Cotto has shrugged of the WBC's decision to strip him of his middleweight title days out from Saturday's clash with 'Canelo' Alvarez, saying 'I don't need their belt.'
The Puerto Rican, who is nearing the end of his Hall of Fame worthy career, had refused to pay the $300k sanctioning fees wanted by the WBC, instead trying to negotiate a lower fee, which was refused by the organisation.
"I am not disappointed by the WBC's decision. It was all about money," he said insouciantly during his grand arrival at Mandalay Bay in Las Vegas. "The fee for this fight was absurd to me, and I prefer to keep the money in my account.
"The organization(s) wants four champions in every division just to earn a percentage from everybody, and then we have to pay for their mistakes.
"This is not fair to me. The WBC told me my [lower] offer was not reasonable to them. They told me I was not going to be their champion anymore. I don't need their belt."
Cotto's team also had to pay a reported $800k in step-aside fees to WBC interim champ, Gennady Golovkin, who will be upgraded to full champion status should it be Cotto, and not Alvarez, who emerges victorious on Saturday night.
With the Puerto Rican's increasing reluctance to fight WBA/IBF champ, Golovkin, especially at the sanctioned 160 lb limit, the motivations behind this recent decision not to agree the fee become a little clearer.
It's also obvious from these latest comments and actions, that the 32 year old is intent on winding down his career purely on his own terms, having become the first Puerto Rican fighter in history to win four world titles in four weight classes.
"I have enough belts in my house. And with the money I saved, I can buy any belt I want," he said. "And I can be the champion of whatever I want in my house."
Twitter @undilutedpoison