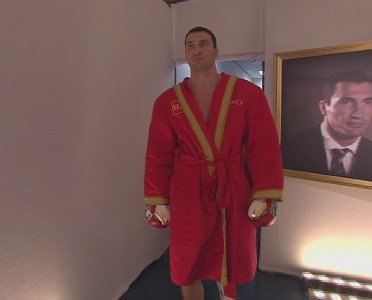 EBU heavyweight champion Dereck Chisora (19-4, 13 KO's) is hoping to work his way into a world title fight this year against IBF/IBO/WBA/WBO heavyweight champion Wladimir Klitschko (61-3, 51 KO's). Chisora figures he could be two wins away from locking himself in as the mandatory challenger for Wladimir. Chisora specifically wants to get Wladimir over to Africa to fight him there in a repeat of the 'Rumble in the Jungle.'
It's kind of a crazy idea that Chisora has in wanting to get Wladimir over to Africa, because the chances of it happening are so remote that it's kind of difficult to even fathom this taking place. For Chisora to have a chance of realizing his dream of getting Wladimir to Africa, he'll need to beat Ukrainian Andriy Rudenko (24-0, 16 KO's) on February 15th, and then beat Tyson Fury in a rematch next summer. Chisora will also need to hope that one of the sanctioning bodies makes his planned fight against Fury a heavyweight eliminator. If Chisora can win both of those fights, then he'll still need to have his promoter win the purse bids with Wladimir's promotional team K2.
"I want to fight Wladimir Klitschko this year, but I don't want him coming to us dictating terms," Chisora told the Telegraph. "We have to be able to force this issue with him by becoming mandatory challenger, so that fight can go to purse bids. I want to take it to Africa, to Zaire. Frank [Warren] knows I want that, and if we could take the fight to Africa it would be the 'Rumble in the Jungle' all over again."
It's a great idea if it works out for Chisora, because he would repeating history but instead of Muhammad Ali vs. George Foreman, it would be Chisora vs. Wladimir in Zaire.
One has to wonder whether Chisora has worked it out in his head whether there would be a great deal of interest in a Wladimir-Chisora fight in Africa. The Ali-Foreman fight was huge over there, but Ali was a worldwide star when he fought Foreman over there in 1974. Chisora's a good fighter, but he hasn't accomplished even a tiny fraction of what Ali had accomplished in his career at the time that he fought Foreman over in Africa.
Chisora is 30-years-old. Ali was 32 when he fought Foreman in Africa, and he had done so much with his career compared to Chisora. What this means is Chisora could force Wladimir to fight him in Africa, but without him being a huge start, it might be a self-defeating move for Chisora. Common sense tells you that Chisora would be much better off if the fight were to take place in the UK rather than Africa. At least in the UK the fans would know who Chisora is. In Africa, Chisora is likely an unknown fighter.