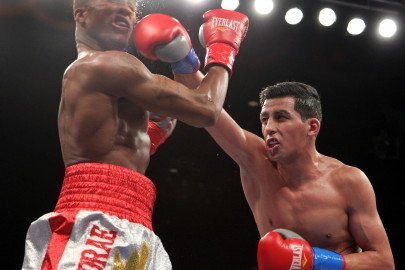 (Photo: Casino/Showtime) By Marc Livitz:The backdrop was the Fantasy Springs Resort Casino in Indio, California tonight and Hugo "The Boss" Centeno, Jr. put on a show of the "left, left, right" variety throughout the entirety of the junior middleweight bout. The Oxnard, California fighter pressed and controlled the action this evening in his contest with KeAndrae "Lightning" Leatherwood of Atlanta.
From the opening bell, the still undefeated Centeno, Jr. (18(9)-0) used an effective left jab to maintain the distance between himself and the potentially dangerous Leatherwood (12(8)-2(1)-1). Although KeAndrae did what he could in the early rounds to patiently wait for the chance to land a conclusive right, this strategy was for all purposes abandoned as the fight progressed. He then spent much of the night holding and trying to get Centeno, Jr. to fight his style of contest. It didn't work, as Hugo continued to remain active, do more and shake off the ever increasing amount of holding and occasional takedowns.
"The Boss" tried to end the fight late with a few barrages of power punches to the head, but Leatherwood survived on his feet. The jabs and follow up rights of Hugo were the main attraction of the bout. The decision was an easy one and unanimous across the board for Centeno, Jr. The cards read as follows: 100-90, 100-89 and 99-91.