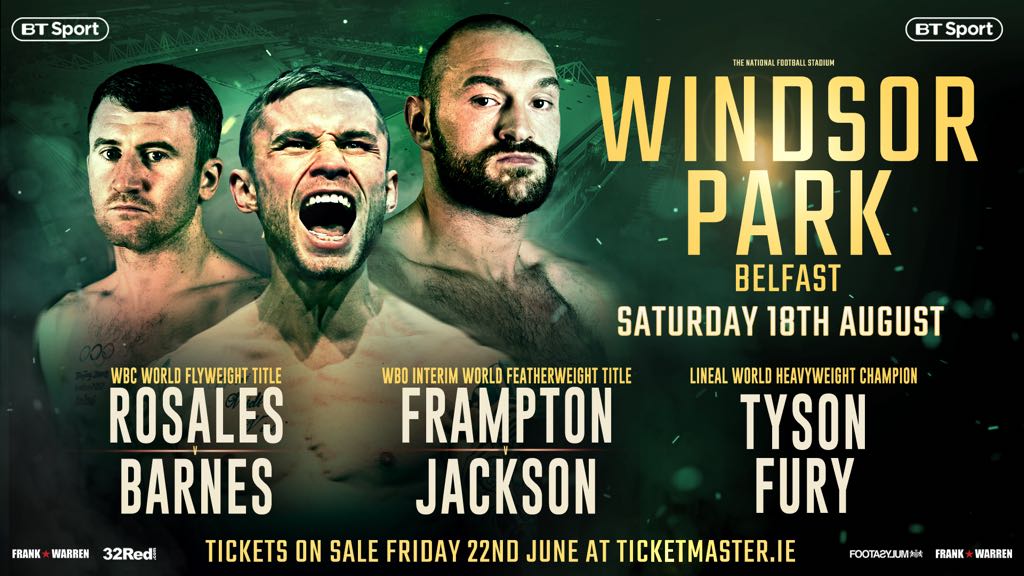 Carl Frampton will realise a career-long dream when he defends his WBO Interim World Featherweight Title against Luke Jackson on the pitch at Windsor Park, Belfast, on August 18, on a card that also features Paddy Barnes challenging for the WBC World Flyweight title and the second fight of Tyson Fury on the comeback trail.
The 31-year-old two-weight world champion Frampton, who rolled back the years with a memorising performance to win the WBO belt against Nonito Donaire last time out at the SSE Arena in April, takes on the unbeaten Australian from Hobart in a bid to keep his ambitions to once again rule the featherweight roost on track.
The 33-year-old Jackson, 16-0, is the holder of the WBO Oriental Title, having previously held the WBA Oceania belt. He also captained the Australian boxing team at the 2012 London Olympics and won Commonwealth Games bronze in 2006.
Frampton acknowledges his challenger could be deemed something of an unknown quantity to fight fans in the Northern Hemisphere, but will in no way take victory on the night for granted.
"He is and I think a lot of people will expect to just to beat him up and blow him away," commented Belfast's favourite fighting son. "But he is ranked No.4 by the WBO, he is an Olympian with a good pedigree and is undefeated.
"So I will need to be ready and in the shape of my life. It is a big occasion with being at Windsor Park and that is the real thing here. I think that people who are coming to watch me perform at Windsor Park deserve for me to be in the shape of my life and put on a good show.
"That is what I intend to do and then move on and hopefully fight for a world title before the end of the year.
"I imagine some people will have been expecting a different opponent, but the fact I am not fighting a world champion is the fault of nobody. Josh Warrington beating Lee Selby sort of threw a spanner in the works for us because I think Selby would've come to Belfast.
"Oscar Valdez is out injured, Gary Russell has just fought and Leo Santa Cruz and Abner Mares also just fought. That's it really; the top guys just aren't available. It is good for me to get a defence in here.
"This is a dream for me and it is something I have talked about for a long time. You never know what happens in this game, it could be the one and only time I get to fight at Windsor Park.
"It is going to be a special occasion for myself and my family. For the people who are going to come and watch it there is going to be a top quality undercard as well and I think it will be a night to remember for Belfast.
"There was talk of waiting, but I wanted to do it because opportunities like this don't come around too often. It is a dream of mine, I wanted to do it and that is the be all and end all."
Hall of Fame promoter, Frank Warren, added: "We are delivering on a promise I made to Carl to ensure his dream of fighting at Windsor Park becomes a reality.
"The world title challenge we envisaged we unfortunately could not bring to fruition at this time but Carl is up against a hungry, unbeaten challenger in Luke Jackson who, as I often say, will not be coming to just make up the numbers.
"World title shots will come again soon enough for Carl and we have the IBF champion Josh Warrington waiting in the wings for a huge fight not too far down the line. Carl will also remain in pole position to challenge the WBO full champion Oscar Valdez when he returns from injury, should he overcome Jackson.
"Carl, as ever, will always be the focal point of a fight night in Belfast, but we are also planning a huge card for the Belfast public to feast their eyes on and two major attractions we have already confirmed is Tyson Fury making his fourth appearance in the city in his second fight of his comeback, as well as Paddy Barnes attempting to achieve the remarkable feat of winning a world title in just his sixth professional fight.
"It is certain to be a special night and I am sure Windsor Park will be packed to the rafters creating an atmosphere we have never heard the like of before."
Barnes challenges for the WBC World Flyweight title against the Nicaraguan Cristofer Rosales, 27-3, who claimed the belt in a huge upset win over the previously unbeaten Japanese Daigo Higa in April, with a ninth round stoppage in Yokahoma.
"It is going to be an amazing night where I get to fight for a world title in my home city, so I cannot wait until it happens," said the 31-year-old two-time Olympic medallist.
"The fact it is for the WBC title means even more, the green belt is the best one in boxing so it makes it even more special.
"Rosales is good at what he does, but I feel I have the skill to outfight and outbox him. It will be a very, very hard fight though.
"People will talk about me fighting for a world title after just six fights, but I don't view it as a gamble because of my history as an amateur.
"As a professional, right from the offset, I said that I wanted to create history because we already have world champions in Belfast. So for me to stand out I need to create history by doing it the quickest.
"I don't think winning a world title after six fights will ever be matched again here."
Tickets will be on sale on Friday 22nd June via Ticketmaster.ie
Priced at: £400 (Hospitality), £250, £150, £120, £100, £80, £50, £40
###
Carl Frampton accepts Luke Jackson poses a serious threat to his world title aspirations but has told the Australian Belfast will serve up an atmosphere more daunting than any other.
Australia's Jackson (16-0-KO7) will enter the cauldron of Windsor Park on August 18 as the underdog – but Frampton doesn't have to look far back into his own history to find a cautionary tale.
Frampton said: "The last time people were saying a fighter didn't pose a threat to me was against Alejandro Gonzalez Jr and I ended up on my backside twice in the first round. It was the first time I'd been down in my career.
"Luke Jackson is an undefeated fighter and former Olympian with a very decent pedigree. He comes with a lot to gain if he beats me. He's highly ranked with the WBO and I expect a tough fight.
"Jackson has had plenty of notice to get himself into the best shape of his life and he's entitled to put on a great performance. It's up to me to better his performance and that's what I'm going to do – Windsor Park deserves it. I want to do a proper job.
"The thing is – like most other featherweights, Jackson won't have experienced an atmosphere like Belfast can create. I'm used to boxing at the SSE Arena in Belfast and it's intense. It's got to be hard for an opponent to deal with.
"It's hard enough in front of 9,000 at the SSE Arena so just think how tough it's going to be to fight against a hometown boy at Windsor Park. It's going to be so tough. It might make him fold or it might gee him up but one thing's for sure – it won't be easy for him.
"I'm professional enough to avoid getting carried away with the atmosphere. I've learned a lot. I've dealt with big atmospheres and high expectations before. I'll rise to the occasion of stepping out in the stadium and realising a dream."
Frampton is aiming to become a three-time world champion having already secured two-weight status with memorable victories over the likes of Leo Santa Cruz and Scott Quigg.
Another local hero – triple Olympian Paddy Barnes – also stars on the card as he challenges Cristofer Rosales for the WBC world flyweight title. Lineal heavyweight king Tyson Fury completes a glitzy cast.
Stay up to date at mtkglobal.com and on social media @mtkglobal