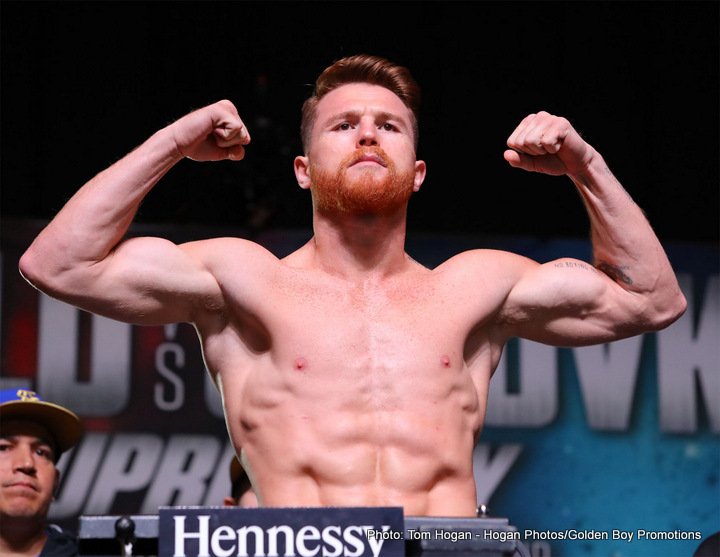 Saul Canelo Alvarez and Gennady "GGG" Golovkin both weighed in at 160 pounds on Friday at their weigh-in on Friday afternoon in Las Vegas for their fight this Saturday night at the T-Mobile Arena. Both guys looked good. The face off was uneventful, as both guys weren't playing intimidation games.
The interesting part will come in the next 24 hours to see how much weight Canelo puts on. He looked very, very heavy during the past 2 weeks. He seems to have put an awful lot of weight in a hurry, which is not good. On stage, Canelo was out of breath, as if he had run a marathon. Don't be surprised if Canelo gasses out tomorrow night and gets stopped. There's a lesson there for fighters that put on a lot of weight in a hurry.
Canelo looked more muscular than GGG, but the bigger guy in terms of bone structure was Golovkin. He's naturally got the bigger frame with the bigger fists, longer arms and bigger forearms.
All Weights:
Gennady Golovkin 160 vs. Canelo Alvarez 160
Joseph Diaz Jr. 126 vs. Rafael Rivera 127
Diego De La Hoya 122 vs. Randy Caballero 121
Ryan Martin 135 vs. Francisco Rojo 135.5
Serhii Bohachuk 150 vs. Joan Jose Valenzuela 154.5
Vergil Ortiz 140 vs. Cesar Valenzuela 140
Marlen Esparza 111.5 vs. Aracely Palacios 110
Nicola Adams 115 vs. Alexandra Vlajk 114.5